JULY 9: The Nuggets have officially signed Jokic to his new mega-deal, the team announced today in a press release.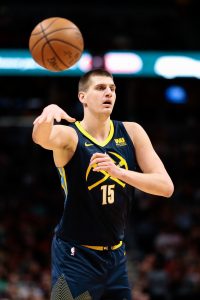 "It's not every day that you find a player with the incredible skillset to lead an NBA franchise that Nikola has, but also the character and personality to match that," Nuggets vice chairman Josh Kroenke said in a statement. "Seeing Nikola grow on and off the basketball court is something in which our organization has taken immense pride, and we were determined to do whatever it took to keep Nikola in a Nuggets uniform for a very long time."
JUNE 30: Jokic has agreed to a five-year, maximum-salary deal with the Nuggets, according to reports from ESPN's Adrian Wojnarowski and Shams Charania of Yahoo Sports (Twitter links). A full max contract for Jokic projects to be worth $147,710,050.
Denver also reached an agreement to re-sign Barton.
JUNE 25: The Nuggets will decline Nikola Jokic's team option for 2018/19 in order to make him a restricted free agent, as we detailed on Sunday. Once Jokic officially reaches free agency, he and the team intend to finalize a five-year, maximum-salary contract, reports Shams Charania of Yahoo Sports.
Denver's plans for Jokic come as no surprise, given the comments made by president of basketball operations Tim Connelly following last Thursday's draft. At the time, he suggested the Nuggets would do all they could to make sure they locked up their star center for as many years as possible.
"Nikola's going to be here for a long, long time," Connelly said. "I think whatever we do, we're going to ensure he's here as long as possible. When that moment happens, we're going to talk to Nikola and his brothers and his representation. He'll be in Denver for a long, long time. He'll be buying (a home) here."
Had they simply exercised their 2018/19 option on Jokic, the Nuggets could have kept him under team control for a mere $1,600,520 next season. However, taking that route would have risked alienating Jokic and his representatives, and would have put him on track to unrestricted free agency in 2019, at which point he would have been free to join any other team. By declining that option, Denver ensures that it will have the right of first refusal, though the team will simply negotiate directly with Jokic's camp rather than waiting for an offer sheet.
Jokic, 23, enjoyed the best season of his three-year career in 2017/18, setting new career highs in PPG (18.5), RPG (10.7), APG (6.1), and 3PT% (.396), among other categories. While the former second-round pick isn't an elite defender, he's one of the NBA's best frontcourt play-makers, and will be paired up front with a strong defensive presence in Paul Millsap.
As for the exact value of Jokic's contract, a five-year deal can be worth up to $146.45MM based on a $101MM cap projection. Such an agreement would start at $25.25MM, eventually increasing to $33.33MM by 2022/23. We outlined the exact year-by-year breakdown when we took an early look at maximum salary projections earlier this year.
Adding $25.25MM to the Nuggets' salary commitments for 2018/19 will increase the team's total guaranteed money to $131MM+ for 12 players. That figure doesn't account for Will Barton, who will be an unrestricted free agent. If Denver wants to re-sign Barton, the club will likely make a strong push to shed another salary, with Kenneth Faried's and Darrell Arthur's expiring contracts serving as the most obvious trade pieces.
Photo courtesy of USA Today Sports Images.