Longtime Spurs guard Manu Ginobili has announced his retirement from the NBA. The team issued a press release today confirming the news, while Ginobili published his own statement via Twitter.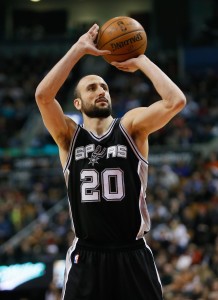 "Today, with a wide range of feelings, I'm announcing my retirement from basketball," Ginobili wrote. "IMMENSE GRATITUDE to everyone (family, friends, teammates, coaches, staff, fans) involved in my life in the last 23 years. It's been a fabulous journey. Way beyond my wildest dreams."
It's the end of an era in San Antonio, where the Spurs have now seen Tim Duncan, Tony Parker, Kawhi Leonard, and Ginobili depart within the last two-plus years.
Ginobili, 41, was the 57th overall pick in the 1999 draft, making him one of the best second-round picks in NBA history. After being drafted, he played overseas for three more seasons, then joined the Spurs in 2002, spending the next 16 years with the franchise.
Over the course of his NBA career, Ginobili appeared in 1,057 regular season contests, averaging 13.3 PPG, 3.8 APG, and 3.5 RPG. He also played in 218 more postseason contests, winning four championships with the Spurs. A two-time All-Star and two-time All-NBA player, the Argentinian shooting guard was the NBA's Sixth Man of the Year in 2008.
Ginobili, who had been the NBA's second-oldest active player and now becomes one of just seven players to spend his entire career of 16 years or more with a single time, will eventually be a Hall-of-Famer.
The Spurs had Ginobili under contract for one more season and had wanted him back for the 2018/19 campaign, but he'll call it a career before finishing out that deal. If Duncan's retirement in 2016 is any indication, San Antonio figure to waive Ginobili at some point and allow him to earn his $2.5MM salary for the coming season.
Ginobili's departure will open up a spot on the Spurs' projected regular season roster — with the veteran guard no longer in the mix, the club has just 13 players on fully guaranteed contracts, so there will be at least one spot up for grabs, if not two. It's not yet clear if San Antonio will make any roster moves to fortify its backcourt in the wake of Ginobili's retirement.
According to the Spurs, Ginobili will speak to the media about his retirement decision at some point before training camps begin, but it won't happen this week.
Photo courtesy of USA Today Sports Images.