Twenty-three players became eligible for rookie scale extensions when the 2018/19 NBA league year began in July. One of those 23, Devin Booker, quickly finalized a new deal with the Suns, leaving 22 other players who could sign rookie scale extensions before the October 15 deadline. In the weeks leading up to that deadline, we'll be taking a closer look at some of the strongest candidates for new contracts.
Our examination of this year's candidates for rookie scale extensions begins today with Timberwolves big man Karl-Anthony Towns. Let's dive in…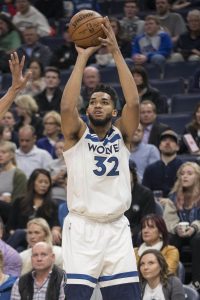 Why the Timberwolves should give him an extension:
Towns' case for a new deal is obvious. A former first overall pick, he's already one of the NBA's most talented big men, earning his first All-Star and All-NBA nods in 2017/18. He has averaged a double-double in each of his three NBA seasons, recording 21.6 PPG and 11.7 overall over the course of his young NBA career.
Unlike many other NBA bigs, Towns figures to have no problem adapting as the NBA continues to evolve — his .387 career 3PT% (.421 in 2017/18) reflects his ability to score from the outside as well as the inside, so he's hardly a one-dimensional offensive player. He can also pass the ball effectively (2.4 career APG), and while he's not an elite rim protector on defense, he's capable of blocking shots (1.4 career BPG).
On top of all that, Towns has displayed a skill that's over overlooked and undervalued — durability. He has yet to miss a game since entering the league, playing all 82 contests in three consecutive years.
At age 22, Towns still has plenty of room to develop into a more complete and effective player, a scary possibility for opposing teams to consider. He'd likely be one of the first few players named if NBA general managers were given the ability to lock up any current player for the next decade.
Why the Timberwolves should avoid an extension:
While Towns is already a monster on offense and on the glass, his play on defense leaves something to be desired. Tom Thibodeau brought in Taj Gibson a year ago in order to pair Towns with a tough, defensive-minded veteran in the frontcourt, and the young star may need to be complemented by similar frontcourt partners in the coming years.
Additionally, there may be some concern about how Towns meshes with his fellow stars in Minnesota. Reports of tension have followed around the Timberwolves' three most important players – Towns, Andrew Wiggins, and Jimmy Butler – and if there's truth to those rumors, locking up Towns to a long-term deal may help push someone like Butler out of Minnesota.
Of course, if the Wolves are worried at all about Towns' defense or his locker-room relationships, they aren't exhibiting that concern publicly. The two sides have reportedly discussed a maximum-salary extension, with team owner Glen Taylor confirming that Minnesota put an offer of that caliber on the table. Taylor sounds confident that it's just a matter of when – not if – Towns will sign a new deal with the Wolves.
Points of comparison:
The clearest points of comparison for Towns in terms of recent rookie scale extensions are Joel Embiid (2017) and Anthony Davis (2015), both of whom signed five-year, maximum-salary deals. Towns may not quite have the two-way potential of either of those players, but he's as talented a scorer as either of them. Plus, both Embiid and Davis had durability concerns when they signed their rookie scale extensions. Those concerns don't exist with Towns.
Damian Lillard, Devin Booker, Andrew Wiggins, and Kyrie Irving are among the other players who have signed five-year, max-salary extensions within the last few years, and Towns compares favorably to all of them. There's no question that he'll be in line for the max.
Cap outlook:
Assuming Towns signs a max contract, it currently projects to count for at least $27.25MM on the Wolves' cap for 2019/20. If Towns' representatives are able to negotiate a Rose Rule extension worth up to 30% of the cap, the big man's starting salary would increase to a projected $32.7MM, should he earn All-NBA honors again in 2018/19.
Either cap hit would essentially eat up the Timberwolves' potential cap room for the summer of 2019, and that's even before taking into account a new deal for Jimmy Butler, who can opt out of his contract next year.
If Butler leaves, it will create a new set of on-court problems for the Wolves, but would likely reduce any long-term financial concerns. However, if Butler decides to re-up in Minnesota alongside Towns, the tax ramifications would become an immediate issue for the franchise, and would perhaps necessitate a salary-dump deal involving Wiggins, Gorgui Dieng, or Jeff Teague.
Conclusion:
Barring a huge last-minute surprise, it's a safe bet that Towns will sign a five-year, maximum-salary extension with the Wolves at some point before October 15. The specific details will be interesting to keep an eye on though.
If Towns is able to negotiate a fifth-year player option, like Davis did with the Pelicans, it would put him on track to reach free agency a year earlier, in 2023 rather than 2024. He'd be 27 years old at that point, presumably in the midst of his prime, and with the NBA's salary cap expected to keep increasing in the coming years, reaching unrestricted free agency a little sooner could pay off in a big way.
Additionally, as we alluded to above, not all maximum-salary contracts are created equal. A player who earns two All-NBA nods in the final three years of his rookie contract is eligible for a max salary starting at 30% of the cap instead of 25%. That gap would result in a difference of more than $30MM over the life of a five-year contract, so Towns' reps will do all they can to make sure that language is included in his new deal. If Minnesota is resistant to going as high as 30%, the two sides could compromise somewhere between 25-30%, but I'd expect Towns' camp to win out.
Will Towns get extended by October 15?
Our prediction: Yes.
Our estimate: Five years, maximum salary.
Photo courtesy of USA Today Sports Images.