The Suns approached the 2018 offseason as if they planned to contend, signing Trevor Ariza in free agency to fortify their starting lineup. However, the team didn't have enough talent – particularly at point guard – to remain in the playoff hunt in the West, and quickly shifted gears, looking toward the future. That focus on the long term figures to continue this summer, as Phoenix likely won't have the cap flexibility to be a major player in free agency.
Here's where things currently stand for the Suns financially, as we continue our Offseason Salary Cap Digest series for 2019: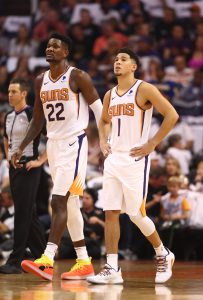 Guaranteed Salary
Devin Booker ($27,250,000)
T.J. Warren ($10,810,000)
Deandre Ayton ($9,562,920)
Josh Jackson ($7,059,480)
Mikal Bridges ($4,161,000)
De'Anthony Melton ($1,416,852)
Elie Okobo ($1,416,852)
Total: $61,677,104
Player Options
Team Options
Non-Guaranteed Salary
Restricted Free Agents
Unrestricted Free Agents / Other Cap Holds
Troy Daniels ($6,191,224): Bird rights
Dragan Bender ($5,896,519): Bird rights 1
No. 6 overall pick ($5,806,200)
Jamal Crawford ($1,618,486): Non-Bird rights
Richaun Holmes ($1,618,486): Bird rights
George King ($1,443,842): Non-Bird rights
Total: $24,598,437
Projected Salary Cap: $109,000,000
Projected Tax Line: $132,000,000
Offseason Cap Outlook

Realistic cap room projection: $0

With less than $62MM in guaranteed salary on their books for 2019/20, the Suns seemingly should be in position to create cap room. However, that figure doesn't account for Johnson's $19.2MM player option (a lock to be exercised), Oubre's $9.6MM cap hold, and a $5.8MM cap hold for their first-round pick. Add those figures and Phoenix's team salary increases to over $96MM, putting the club in position for its exceptions to push it right to the projected $109MM cap.
Max cap room scenario: Let's say the Suns want to create cap space to pursue a marquee free agent. They could, in theory, renounce Oubre and waive-and-stretch Johnson. That would leave the team with approximately $31.5MM in cap room. That's probably an unlikely series of events though.
Cap Exceptions Available
Mid-level exception: $9,246,000 2
Bi-annual exception: $3,619,000 2
Footnotes
Because Bender's fourth-year rookie scale option was declined, the Suns are ineligible to offer him a starting salary greater than his cap hold.
These are projected values. If the Suns use cap room, they'd lose these exceptions and instead would gain access to the $4,760,000 room exception.
Note: Minimum-salary and rookie-scale cap holds are estimates based on salary cap projections and could increase or decrease depending on where the cap lands.
Salary information from Basketball Insiders and RealGM was used in the creation of this post. Photo courtesy of USA Today Sports Images.