The Bucks breathed a collective sigh of relief during the 2020 offseason when Giannis Antetokounmpo signed a five-year, super-max extension to remain in Milwaukee. That commitment from Antetokounmpo gave the club some leeway to operate without having to worry that a trade request from the two-time MVP might be imminent.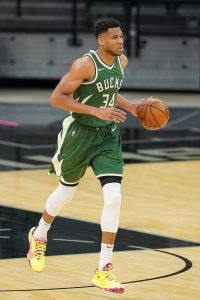 Still, it's not as if Giannis' new deal lifted all the pressure on the franchise. The Bucks were coming off back-to-back postseason disappointments, having blown a 2-0 lead in the Eastern Conference Finals in 2019 and then losing to the underdog Heat in the 2020 Eastern Semifinals.
Milwaukee was also facing scrutiny for its 2020 offseason moves — the team gave up a ton of draft assets for a player (Jrue Holiday) who had made one All-Star team in 2013 and had never earned an All-NBA spot. And a failed attempt to acquire Bogdan Bogdanovic via sign-and-trade cost the club a future second-round pick for tampering and created the impression that the Bucks didn't maximize their opportunities to improve the roster.
The fact that the Bucks faced so many questions entering the 2020/21 season makes it all the more impressive that – eight months later – they've answered each and every one of them. Before his extension even began, Antetokounmpo led the organization to its first championship in 50 years.
Holiday played a key role in the team's title run, Bogdanovic's new team (Atlanta) was no match for Milwaukee in the Eastern Finals, and Mike Budenholzer – who was on the hot seat following the team's last two playoff letdowns – now appears in line for a contract extension rather than a pink slip.
It's a good time to be a Bucks fan.
---
The Bucks' Offseason Plan:
With Antetokunmpo, Holiday, and Khris Middleton on the books for a combined $106MM+ next season, the Bucks will start the offseason over the cap — and likely in tax territory, once guaranteed salaries for Brook Lopez, Pat Connaughton, Donte DiVincenzo, and others are taken into account.
That will make it difficult for the Bucks to retain free agents like Bobby Portis and Bryn Forbes. Milwaukee has both players' Non-Bird rights, but the Non-Bird exception only gives the team the ability to offer a 20% raise, which would result in a starting salary of about $4.3MM for Portis and $2.8MM for Forbes. They can likely do better on the open market, so if they hope to retain one or both, the Bucks will either have to dip into the mid-level exception or hope they're willing to accept a discount.
P.J. Tucker's Bird rights will allow the Bucks to re-sign him without any cap limitations. A new deal for Tucker would increase Milwaukee's projected tax bill, but team ownership should be more willing to take on those penalties after a championship season, and Tucker, who is 36, shouldn't require a long-term investment.
Further upgrades to the roster will be a challenge. If the Bucks are prepared to use it, the taxpayer mid-level exception (worth about $5.9MM) could be used to land a rotation player, though tax penalties would exponentially increase the cost of using that exception. Jeff Green has been cited as one possible target if Portis departs.
It's possible Milwaukee could get a bargain or two if there are veterans willing to sign for the minimum to chase a ring, and the No. 31 pick will be a useful tool for adding a low-cost player capable of contributing immediately. The Bucks may preserve a portion of their mid-level exception to ensure they can give their second-round pick a deal exceeding two years — dedicating a roster spot to an inexpensive rookie contract for the next three years will help keep team salary in check.
The Bucks will also have to decide soon whether DiVincenzo will be part of the team's long-term future. He's eligible for an extension this offseason and could be a useful trade chip if Milwaukee isn't comfortable giving him a sizable raise. DiVincenzo is a solid player with room to continue improving, but the team was willing to include him in last year's aborted Bogdanovic sign-and-trade and won a title while he was sidelined with an ankle injury, so it's not as if he's indispensable.
If the Bucks had fallen short in the playoffs this season, I wouldn't have been surprised to see Lopez's name pop up in trade rumors this offseason, since he has the largest contract outside of the club's "big three." That's still a possibility, but Lopez played big minutes during Milwaukee's title run and didn't get run off the court like some centers have in the postseason. He's still a useful piece for the Bucks, who would probably only move him if they could get a better player — not just to get off his salary.
---
Salary Cap Situation
Note: Our salary cap projections are based on a presumed 3% increase, which would result in a $112.4MM cap for 2021/22.
Guaranteed Salary
Giannis Antetokounmpo ($39,344,970) 1
Khris Middleton ($35,500,000)
Jrue Holiday ($31,171,333)
Brook Lopez ($13,302,325)
Pat Connaughton ($5,333,334)
Donte DiVincenzo ($4,675,830)
Jon Leuer ($3,169,347) — Waived via stretch provision.
Larry Sanders ($1,865,547) — Waived via stretch provision.
Jordan Nwora ($1,517,981)
Sam Merrill ($500,000) — Partial guarantee. Non-guaranteed portion noted below. 2
Mamadi Diakite ($100,000) — Partial guarantee. Non-guaranteed portion noted below.
Total: $136,480,667

Player Options
Team Options
Non-Guaranteed Salary
Restricted Free Agents
Two-Way Free Agents
Draft Picks
No. 31 overall pick (no cap hold)
Extension-Eligible Players
Donte DiVincenzo (rookie scale)
Brook Lopez (veteran)
Unrestricted Free Agents / Other Cap Holds
Offseason Cap Outlook

The Bucks' team salary barely sneaked across the tax line in 2020/21. In 2021/22, the club will likely blow past that threshold.
Milwaukee is already essentially at the tax line with only seven players on fully guaranteed contracts, so even filling out the roster with minimum-salary players would push team salary into the tax by about $10MM. Barring a major cost-cutting move, the Bucks will be limited to the taxpayer mid-level exception.
Cap Exceptions Available
Taxpayer mid-level exception: $5,890,000 5
Trade exception: $4,886,515
Trade exception: $1,620,564
Footnotes
This is a projected value. Antetokounmpo's salary will be 35% of the 2021/22 salary cap.
Merrill's salary becomes fully guaranteed after August 8.
Because he'll have four years of NBA service, Jackson is ineligible to sign another two-way contract.
Forbes is declining his player option for 2021/22.
This is a projected value. If the Bucks stay below the tax apron, they could have access to the full mid-level exception ($9.5MM).
Salary and cap information from Basketball Insiders, RealGM, and ESPN was used in the creation of this post.