Players and teams have to meet certain criteria to earn Bird rights and Early Bird rights, but Non-Bird rights are something of a given. They apply to a player who has spent a single season or less with his team, as long as he finishes the season on an NBA roster.
Teams can also claim Non-Bird rights on Early Bird free agents if they renounce them. The primary motivator to do so would be to allow the team to sign the free agent to a one-year contract, a move that's not permitted via Early Bird rights.
Teams are eligible to sign their own free agents using the Non-Bird exception for a salary starting at 120% of the player's previous salary, 120% of the minimum salary, or the amount of a qualifying offer (if the player is a restricted free agent), whichever is greatest. Contracts can be for up to four years, with 5% annual raises.
The cap hold for a Non-Bird player is 120% of his previous salary, unless the previous salary was the minimum. In that case, the cap hold is equivalent to the two-year veteran's minimum salary, which in 2019/20 projects to be worth $1,618,486. If a Non-Bird free agent only has one year of NBA experience, his cap hold is equivalent to the one-year veteran's minimum salary.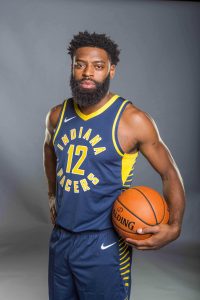 The salary limitations that apply to Non-Bird rights are more severe than those pertaining to Bird rights or Early Bird rights, so in many cases, the Non-Bird exception may not be enough to retain a well-regarded free agent. For instance, the Grizzlies held Tyreke Evans' Non-Bird rights last summer, but would have been unable to realistically use them to re-sign the free agent guard.
The Grizzlies technically could have used Non-Bird rights to go over the cap to sign Evans, but because his 2017/18 salary was only $3,290,000, the club's ability to offer raises using the Non-Bird exception was extremely limited — 120% of Evans' previous salary worked out to just $3,948,000, which wouldn't have been a competitive offer.
In order to make a realistic play for Evans, who ultimately signed a one-year, $12.4MM deal with Indiana, Memphis would have had to use cap room or another exception. Of course, during the 2019 offseason, the Pacers' Non-Bird rights for Evans will provide much more flexibility, since they could use those rights to offer up a salary up to $14.88MM — not that I expect them to do so.
Holding Non-Bird rights on a free agent didn't help the Grizzlies, but there are cases in which the exception proves useful. The Spurs, for example, used the Non-Bird exception to give Rudy Gay a 20% raise last summer, bumping his salary from $8,406,000 to $10,087,200.
The Celtics took a similar route with Aron Baynes, re-signing him to a two-year, $10,646,880 contract using his Non-Bird rights. Baynes had initially signed a one-year, $4,328,000 deal with Boston in 2017, so the Non-Bird exception allowed the team to give him 120% of that amount ($5,193,600) in the first year of his new contract, without having to dip into the mid-level or bi-annual exception.
Meanwhile, Luke Kornet's deal with the Knicks provides an example of a team using Non-Bird rights on a minimum salary player. Kornet, whose minimum salary would have been $1,349,383, was eligible to sign for up to 120% of that amount via the Non-Bird exception. As such, his one-year deal with New York was worth $1,619,260.
Note: This is a Hoops Rumors Glossary entry. Our glossary posts will explain specific rules relating to trades, free agency, or other aspects of the NBA's Collective Bargaining Agreement. Larry Coon's Salary Cap FAQ was used in the creation of this post.
Earlier versions of this post were published in previous years by Luke Adams and Chuck Myron. Photo courtesy of USA Today Sports Images.