Every week, Hoops Rumors takes a closer look at players who will be free agents or could become free agents next offseason. We examine if their stock is rising or falling due to performance and other factors. This week, we take a look at players from the Southwest Division: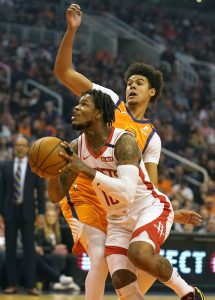 Ben McLemore, Rockets, 27, SG (Up) – Signed to a two-year, $4.3MM deal in 2019
If you're in the same backcourt as James Harden and Russell Westbrook, you're not going to have many opportunities to shoot. And when you do, you'd better make them. McLemore is making them. In his last three games, McLemore has averaged 13.3 PPG and knocked down 11 of 18 3-point attempts. Houston has shuffled its roster over the past month but as long as McLemore remains a perimeter threat, he'll remain in the rotation. Houston needs to guarantee his modest $2.28MM salary for next season prior to free agency. It will be a surprise if the Rockets turn down that bargain.
Jordan Bell, Grizzlies, 25, PF/C (Down) – Signed to a one-year, $1.62MM deal in 2019
Bell wasn't much of a factor with Minnesota this season, even when Karl-Anthony Towns missed some games due to injury or suspension. He got traded to Houston, which quickly flipped him to Memphis for Bruno Caboclo. Bell has only appeared in two games with the Grizzlies but there is a glimmer of hope. With injuries to Jaren Jackson Jr. and Brandon Clarke depleting the frontcourt, Bell could get an extended look in the next couple of weeks. He'll have to show a lot more than he did in Minnesota in order for Memphis to extend a qualifying offer, which would make him a restricted free agent.
Jahlil Okafor, Pelicans, 24, PF/C (Down) – Signed to a two-year, $3.27MM deal in 2018
When the Pelicans were shorthanded last month in Detroit, Okafor erupted for 25 points, 14 rebounds, five assists and three blocks. He never left the bench the next four games, which shows how little he figures in the organization's plans. Okafor has played a total of 25 minutes since that game against the Pistons. Once Zion Williamson got healthy, Okafor's already spotty playing time virtually evaporated. His ability to score in the low post has lost much of its value since he was taken with the third pick in the 2015 draft. He'll be seeking another second-unit opportunity this summer.
Bryn Forbes, Spurs, 26, PG (Up) – Signed to two-year, $6MM deal in 2018
Undrafted despite playing for a major college (Michigan State), Forbes has fit well with the blue-collar Spurs. After Danny Green was traded during the 2018 offseason, Forbes became a starter in his third year in the league. He's held onto that role this season and continues to provide a perimeter option on a team lacking in that area. Forbes has been on fire this month, draining 47.4% of his 3-point attempts. Forbes will enter unrestricted free agency this summer and should get a nice raise and a multiyear deal, perhaps without changing uniforms.
Willie Cauley-Stein, 27, PF/C (Down) – Signed to a two-year, $4.46MM deal in 2019
When Dwight Powell suffered a season-ending Achilles tear late last month, the Mavericks opted to trade with Golden State for Cauley-Stein. It seemed like a great opportunity for Cauley-Stein to pump up his value on a playoff contender. It hasn't worked out that way. Cauley-Stein's role has been limited since joining the Mavericks and he hasn't played since the All-Star break due to undisclosed personal reasons. It's a good thing for WCS that he has a $2.29MM option on his contract for next season. It should come in handy the way things are trending.
Photo courtesy of USA Today Sports Images.