JANUARY 19: The trade is official, according to a tweet from the Nuggets. As we relayed earlier today, the 2028 second-round pick acquired by the Spurs is top-33 protected, and San Antonio also received cash from both Boston ($2.15MM) and Denver ($200K).
---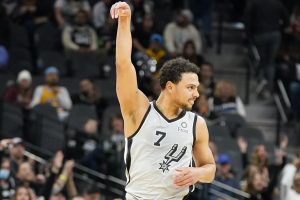 JANUARY 18: Shooting guard Bryn Forbes is headed from the Spurs to the Nuggets as the headliner of a three-team deal that also involves the Celtics, reports Adrian Wojnarowski of ESPN.
Forbes will once again join a playoff team, while Boston power forward Juancho Hernangomez and Denver's 2028 second-round pick are heading to San Antonio. Two injured players, Nuggets power forward Bol Bol and guard PJ Dozier, will be sent to the Celtics.
As Woj details, the Nuggets, who at 22-20 are currently the sixth seed in the Western Conference, had been looking to acquire a wing to improve their bench scoring. Forbes, averaging 9.1 PPG on .432/.417/.898 shooting, fits the bill. The Nuggets had been linked to the veteran sharpshooter as a trade target as recently as yesterday.
Denver has been hit hard by injuries this season, so moving a pair of players who are expected to be sidelined for most or all of the season will help improve the team's depth and will open up a spot on the team's 15-man roster. A report over a week ago stated that the Nuggets were expected to add free agent center DeMarcus Cousins on a 10-day contract. That deal has yet to materialize, but Mike Singer of the Denver Post tweets that there's still mutual interest between the two sides.
The Nuggets tried to trade Bol to the Pistons last week, only to see the deal rescinded when he failed his team physical. Bol subsequently went under the knife for a foot surgery this week and is expected to miss at least eight-to-12 weeks of game action. Dozier will be out for the rest of the 2021/22 NBA season as he continues to recover from a surgery of his own to repair a torn ACL.
Wojnarowski reports that, at least at present, the Celtics intend to retain both Dozier and Bol through this season's trade deadline. Bol could return by March or April and the C's would have both players' Bird rights in the offseason — Bol will be eligible for restricted free agency and Dozier will be unrestricted. Those plans could change if Boston needs to open up a roster spot in the coming weeks or months.
Hernangomez failed to crack the 23-22 Celtics' rotation this season, averaging 1.1 PPG and 1.4 RPG across 5.3 MPG in just 18 contests. As Woj writes, by getting off Hernangomez's $7MM salary and taking back Bol ($2.2MM) and Dozier ($1.9MM), Boston gets that much closer to ducking the NBA's punitive luxury tax.
The Celtics won't need to waive a player to accommodate their one-for-two trade, since they already had an open spot on their 15-man roster.
San Antonio's decision to acquire a future draft pick and Hernangomez's pseudo-expiring contract (next season's salary is non-guaranteed) in exchange for Forbes, a role player on the 2021 championship-winning Bucks, could signal that the team has accepted it should be in asset-accrual mode in the weeks leading up to the league's trade deadline.
The return for Forbes is modest, but that's not a major surprise. While he's a terrific shooter, Forbes is limited on the defensive end and he'll be an unrestricted free agent at season's end. He also fell out of Milwaukee's rotation during the NBA Finals last spring.