The Kings have informed De'Aaron Fox and agent Chris Gaston that they don't want to trade the 24-year-old guard, reports Shams Charania of The Athletic.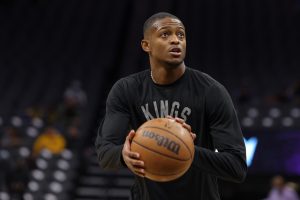 Fox's name has surfaced more frequently in trade rumors as of late, including earlier today. However, sources tell Charania that the Kings' current mindset is that they want to keep both Fox and second-year guard Tyrese Haliburton and build the team around them. Sacramento has conveyed that stance to potential trade partners and to Fox and his reps, says Charania.
Multiple reports this week stated that the Kings have expressed interest in Pacers center Domantas Sabonis, with one report suggesting Fox had been brought up in those discussions. Charania says a deal centered around Sabonis and Fox won't happen.
The Kings are also believed to be very much in the hunt for Ben Simmons, though Sam Amick of The Athletic – who previously reported that Sacramento was open to the idea of acquiring Tobias Harris along with Simmons – now hears from a source that the team doesn't have interest in that scenario (Twitter link). Amick says the Kings still see a pathway to landing Simmons, but it's hard to imagine how they'll construct an offer that meets the Sixers' asking price without including either Fox or Haliburton.
Fox and Haliburton were reported last summer to be off-limits, but that changed earlier this month, as Amick reported that no Kings players were considered untouchable. While that report – and others – stated that Sacramento's preference would be to build around Fox and Haliburton, there had been a sense that the team was becoming more open to doing something drastic and perhaps breaking up its backcourt.
Based on Charania's report, it sounds like the Kings are once again leaning toward making Fox and Haliburton untouchable. It's possible they arrived at their latest position as a result of being underwhelmed by how the two guards were being valued on the trade market — it's also possible this is posturing and Sacramento will reverse its stance again within the next three weeks.
For now though, it appears that any major move made by the Kings will involve some combination of Buddy Hield, Harrison Barnes, Marvin Bagley III, and others on the roster rather than Fox or Haliburton.