JULY 6: Dort's new deal with the Thunder is now official, the team announced in a press release.
---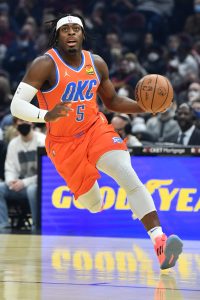 JUNE 30: The Thunder are re-signing restricted free agent Luguentz Dort to a five-year, $87.5MM contract, Dort's agent Thad Foucher tells ESPN's Adrian Wojnarowski (Twitter link).
The barrel-chested Dort, who turned 23 in April, has showed continuous improvement after going undrafted out of Arizona State in 2019. He averaged 6.8 PPG and 2.3 RPG on .394/.297/.792 shooting in 36 games (22.8 MPG) as a rookie, with those averages increasing to 14 PPG and 3.6 RPG on .387/.343/.744 shooting in 2020/21 (52 games, 29.7 MPG).
Dort averaged 17.2 PPG and 4.2 RPG on .404/.332/.843 shooting in 51 games (32.6 MPG) last season. His shooting numbers seem fairly mediocre, but the majority of Dort's shots come from three or at the rim, and he gets to the line a good amount, so his 54.1% true shooting percentage is actually decent.
Dort's hallmark comes on the defensive end of the court, where his strength, toughness and versatility really shine. He's an excellent athlete with a strong frame (6'3″, 215 pounds) and is capable of switching across multiple positions.
A report last week indicated that Oklahoma City would pick up Dort's team option for '22/23, which would have made him an unrestricted free agent in 2023, but clearly they had a change of heart after examining the amount of salary cap space rival teams will have next summer. Instead the Thunder chose to decline the option, making him a restricted free agent.
The modern NBA is dominated by wings capable of playing both sides of the ball, so his contract aligns with the value teams place on players of his mold. Considering his trajectory and the fact that he's only entering his fourth season, there's a good chance that it will be a very reasonable deal for both sides for years to come.