The Thunder are declining the $1,930,681 team option on Luguentz Dort, making him a restricted free agent, sources tell Shams Charania of The Athletic and Stadium (Twitter link).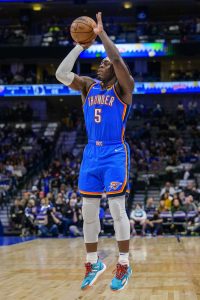 A report last week indicated that Oklahoma City would pick up the option, with GM Sam Presti telling Joe Mussatto of The Oklahoman that was the likely outcome.
"Obviously it's our plan to exercise that pending anything different," Presti said.
Evidently Presti has reevaluated that decision, which isn't very surprising considering Dort would have drawn considerable interest on the open market as an unrestricted free agent in 2023. Declining the option and making him restricted gives the Thunder the ability to match any offer sheet he receives in a free agent market where not many teams have cap space.
The barrel-chested Dort, who turned 23 in April, has showed continuous improvement after going undrafted out of Arizona State in 2019. He averaged 17.2 PPG and 4.2 RPG on .404/.332/.843 shooting in 51 games (32.6 MPG) last season while playing solid, switchable defense.
Given his rate of improvement and the NBA's ever-growing need for wings who can contribute on both ends of the court, it wouldn't be surprising to see Dort sign a contract in the range of $15-20MM annually. Dort is ranked No. 9 on our list of top 50 free agents.