7:00pm: Bogdanovic's extension is official, the Hawks confirmed in a press release.
---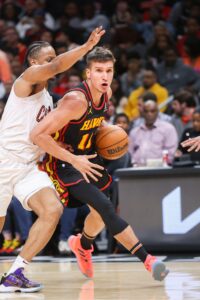 2:06pm: Bogdan Bogdanovic has agreed to a four-year, $68MM extension with the Hawks, sources tell ESPN's Adrian Wojnarowski (Twitter link).
As ESPN's Bobby Marks tweets, Bogdanovic had an $18MM player option for 2023/24 — the first year of his extension will replace that option and cannot be less than that amount. The Hawks are projected to be a taxpayer next season, but owner Tony Ressler has never paid the luxury tax, Marks adds.
Bogdanovic was originally selected No. 27 overall in 2014, but continued to play overseas for a few seasons until his NBA rights were acquired by the Kings. The Serbian swingman spent his first three seasons with Sacramento before signing a four-year, $72MM deal with Atlanta as a restricted free agent in 2020 — the Kings elected not to match.
The 30-year-old missed the first 22 games of 2022/23 after offseason knee surgery, but has been his normal productive self since he returned to action on December 2, averaging 14.1 PPG, 3.2 RPG and 2.9 APG on .437/.401/.806 shooting in 43 games (28.5 MPG). Those numbers are very similar to his career stats of 14.2 PPG, 3.4 RPG and 3.3 APG on .439/.386/.820 shooting in 359 games (28.6 MPG).
Numerous teams, including Cleveland, reportedly inquired on Bogdanovic's availability ahead of last month's trade deadline. However, the Hawks were reluctant to part with the veteran guard/forward, who provides a valued combination of outside shooting and complementary play-making.
One report earlier this month indicated that Bogdanovic was expected to decline his option for next season and enter free agency. Instead, he'll sign a long-term extension with the Hawks, who have made the playoffs in each of the past two seasons and are currently 34-35, the No. 8 seed in the East.
It's interesting that Bogdanovic's new contract comes in at an average annual value of $17MM versus his current deal's $18MM, as the salary cap is expected to continue to rise in the coming years. Still, it's a significant commitment given his injury history, and obviously he was interested in remaining with Atlanta despite a tumultuous season that saw the team switch head coaches.
As Marks notes (via Twitter), Bogdanovic was permitted to extend off his '23/24 salary until the start of next season.