Longtime Hornets majority owner Michael Jordan may soon be giving up control of the franchise. According to Adrian Wojnarowski of ESPN, Jordan is currently "in serious talks" to offload a majority stake in the Hornets to another ownership group fronted by Hawks minority owner Rick Schnall and current Charlotte minority owners Gabe Plotkin and Daniel Sundheim.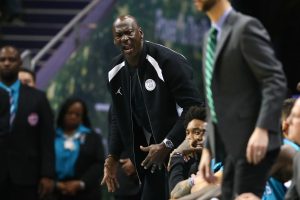 While a deal is not imminent, there's momentum toward an agreement that would eventually make Schnall and Plotkin co-governors of the Hornets, Wojnarowski adds.
Woj hears that Jordan intends to hold on to at least a minority piece of the club if a sale agreement is reached.
Jordan purchased his initial majority stake in the Hornets for $275MM in 2010, but has been at least a partial owner since 2009. The Hornets' value as a franchise has only increased since Jordan bought that initial stake. Sportico's most recent valuation of the team estimated its worth at $1.77 billion (Twitter link).
With a new television deal on the horizon, it seems like a wise investing decision to maintain at least some portion of Charlotte for the immediate future.
The rebuilding Hornets currently occupy the East's No. 14 seed with a 22-49 record. The team is in prime position to add a major talent in what is expected to be an exciting 2023 draft. During the 2021/22 season, Charlotte did qualify for the East's play-in tournament, but lost a 132-103 blowout to the Hawks.