FRIDAY, 12:38pm: Diaw is officially a member of the Jazz, according to the team, which issued a press release to announce its trade with the Spurs. Utah acquires Diaw, a 2022 second-round pick, and cash considerations for the rights to Hanlan.
TUESDAY, 3:49pm: The Spurs and the Jazz have reached an agreement on a trade that will send Boris Diaw to Utah, reports Adrian Wojnarowski of The Vertical (via Twitter). San Antonio had been working to trade Diaw in a deal that cleared cap room for Pau Gasol, so the Jazz won't be sending out any salary in the swap. Instead, as Wojnarowski tweets, the Spurs will get the rights to 2015 second-round pick Olivier Hanlan, who spent last season playing overseas.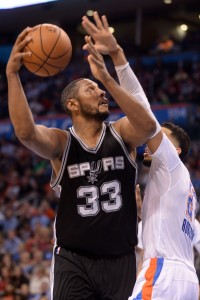 Diaw, 34, had spent the last four-plus seasons in San Antonio, serving as a rotational player for the perennially-contending Spurs. He played just 18.2 minutes per game in 2015/16, matching a career low, but was solid when he was on the floor, averaging 6.4 PPG, 3.1 RPG, and 2.3 APG, and posting a .527 FG%.
In Utah, Diaw will be joining an increasingly intriguing roster that will include offseason additions George Hill and Joe Johnson. Utah already has a solid young foundation in place, with Gordon Hayward, Derrick Favors, Rudy Gobert, Dante Exum, and Rodney Hood among the club's players under contract. The Jazz have supplemented those core pieces this offseason with some solid veteran acquisitions, and should easily be in playoff contention next season.
[RELATED: Utah Jazz depth chart at RosterResource.com]
The Jazz should have the cap room necessary to absorb Diaw's $7MM salary without making any other notable moves, while for the Spurs, clearing that figure from their cap will allow the team to finalize its agreement with Gasol. San Antonio could have waived Diaw last week and saved $4MM in cap room, since his $7MM salary was only guaranteed for $3MM at that point. However, the Spurs opted to keep him, and were able to clear his entire salary while adding Hanlan to their lengthy list of draft-and-stash players.
Photo courtesy of USA Today Sports Images.