JULY 8, 12:34pm: The Knicks have officially signed Noah, the team announced today (via Twitter).
JULY 1, 9:41pm: As expected, the Knicks and Noah have agree to a four-year, $72MM deal after their meeting today, tweets Ramona Shelburne of ESPN.com. It will be a fully guaranteed contract with no options, per Michael Scotto of The Associated Press (Twitter link).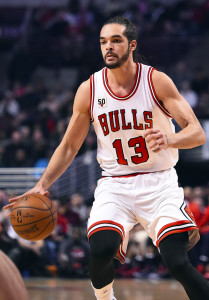 2:42pm: Noah has posted a photo on Instagram that shows him wearing a Knicks cap, which is a pretty strong signal that he'll sign with the team when the moratorium ends next week.
JUNE 30, 11:58pm: Noah and the Knicks are nearing an agreement on a four-year deal worth around $72MM, sources tells Chris Broussard of ESPN.com (Twitter link).
11:11pm: With free agency now open, the Knicks are discussing the framework of a deal that would be in the four-year, $70MM range, according to Shams Charania of The Vertical (Twitter links). The two sides will continue negotiations during their Friday afternoon meeting, per Charania.
7:05am: The Knicks are the strong favorites to land longtime Bulls big man Joakim Noah when the free agent period opens in July, according to multiple reports. Tim Bontemps of The Washington Post, ESPN's Marc Stein and Ian Begley, Shams Charania of The Vertical, and Sam Amick of USA Today all independently reported late on Wednesday night that the Knicks are in the driver's seat in the Noah sweepstakes.
According to Charania and Amick, Noah has a meeting set up with Phil Jackson and the Knicks after free agency formally gets underway at 12:00am on July 1st. Marc Berman of The New York Post clarifies that the meeting between the two sides is expected to happen during the day on Friday, rather than late at night, but he also suggests that the Knicks are the prohibitive favorites for Noah. There's belief on both sides that an agreement could come quickly, says Charnia.
Amick indicates within his report that Noah is still expected to consider multiple teams besides the Knicks, but those clubs have yet to line up a formal meeting with the 31-year-old. Sources tell Stein and Begley that a few teams with interest in Noah have "all but conceded" that the Knicks are No. 1 on his wish list by a sizable margin — the two-time All-Star has expressed strong interest in signing in New York in recent days, since teammate Derrick Rose was traded to the club, per the ESPN duo.
Assuming Noah and the Knicks do indeed work something out, his starting salary may end up in the range of $18MM, according to Bontemps. That would be a significant investment from the Knicks, who are expected to have over $30MM in cap room, and would likely take the team out of the running for some mid-tier free agents, in addition to max-salary players.
Noah underwent surgery on his separated left shoulder back in January, and while he should be ready to go for the 2016/17 campaign, he hasn't played a game since that procedure. In 2015/16, he appeared in just 29 games, averaging 4.3 points, 8.8 rebounds and 3.8 assists in 21.9 minutes per contest.
Photo courtesy of USA Today Sports Images.