9:49pm: The trade between the Rockets and Sixers centered around Ennis is official, both teams announced in press releases. Houston traded Ennis to Philadelphia in exchange for the rights to swap the Rockets' 2021 second-round pick for the Sixers' 2021 second-rounder.
The 76ers also confirmed the release of Richardson, who was acquired in a separate deal with Toronto this week.
11:45am: The Sixers will waive Richardson to open up room for Ennis, tweets Derek Bodner of The Athletic.
11:11am: The Rockets and Sixers have reached an agreement on a trade that will send James Ennis to Philadelphia, reports Shams Charania of The Athletic (via Twitter). According to Charania, Houston will receive the right to swap 2021 second-round picks with the 76ers (Twitter link).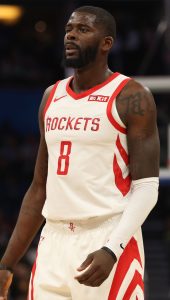 The Rockets signed Ennis to a two-year, minimum salary contract during the 2018 offseason in the hopes that he could help fill the void on the wing created when the team lost Trevor Ariza and Luc Mbah a Moute in free agency.
The 28-year-old Ennis battled some injuries during his time with the Rockets, but was a solid contributor in the 39 games he played. In 23.6 minutes per contest, he averaged 7.4 PPG on .500/.373/.714 shooting. However, with Iman Shumpert set to arrive in Houston as a result of a three-team trade with Sacramento and Cleveland, it appears the Rockets are willing to move on from Ennis.
The Sixers, meanwhile, will add a solid bench piece at a low cost after sacrificing some depth in their acquisition of Jimmy Butler earlier in the season. It's unclear how much playing time Ennis will get in Philadelphia, but I'd expect him to see minutes for the second unit in a three-and-D role.
The 76ers will be able to add Ennis to their roster without sending out any salary, since he's on a minimum deal, though they'll need to make a corresponding move to open up a roster spot. Malachi Richardson and Justin Patton look like the most expendable pieces on the roster.
As for the Rockets, they started the week at 14 players and had been poised to take on an extra man in their deal with the Kings and Cavs. Moving Ennis will get them back to 14 and will slightly reduce their projected luxury tax bill. They'll also create a modest trade exception worth Ennis' salary ($1,621,415).
The exact details on the pick swap rights aren't yet known — the Rockets may simply get the chance to swap out their pick for the Sixers' selection during the 2021 second round, but Philadelphia also holds '21 second-rounders from Denver and New York, so it could be more complicated than that.
Photo courtesy of USA Today Sports Images.