FEBRUARY 7, 11:33am: The trade is now official, the Cavaliers confirmed in a press release. Here are the full details: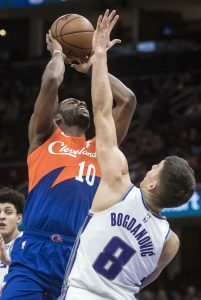 Cavaliers acquire Knight, Chriss, the Rockets' 2019 first-round pick, and the Rockets 2022 second-round pick.
Rockets acquire Shumpert, Stauskas, Baldwin, and the Bucks' 2021 second-round pick (from Cleveland).
Kings acquire Burks and lesser of the Rockets' and Warriors' 2020 second-round picks.
FEBRUARY 7, 7:21am: The draft pick the Kings are receiving from Houston in the deal will be the lesser of the Rockets' and Warriors' second-rounders in 2020, tweets James Ham of NBC Sports California.
FEBRUARY 6, 8:10pm: The Cavaliers will also receive a lottery-protected 2019 first-round pick from the Rockets, relays Chris Fedor of Cleveland.com, who states that the front office is "thrilled" by what it was able to get in return for Burks.
7:25pm: The Kings, Rockets and Cavaliers have agreed to a three-team deal that will send Iman Shumpert to Houston, Alec Burks and a second-round pick to Sacramento and Marquese Chriss and Brandon Knight to Cleveland, tweets Chris Haynes of Yahoo Sports.
The Rockets will also receive Nik Stauskas and Wade Baldwin from the Cavs, adds ESPN's Adrian Wojnarowski (Twitter link). Both guards were acquired Sunday when Cleveland shipped Rodney Hood to Portland. Houston hasn't decided whether to keep both players for the rest of the season, according to Jonathan Feigen of The Houston Chronicle (Twitter link).
Because they were just acquired, Stauskas and Baldwin can't be aggregated in the same trade, so the Cavaliers and Rockets will have to make two separate deals, tweets Keith Smith of Real GM. Burks will be traded for Knight, while Chriss' $3.2MM salary will be absorbed with the TPE that Cleveland created by sending Hood to the Trail Blazers.
The Cavaliers had to include both guards to remain below the luxury tax, Bobby Marks posts on ESPN Now. They created a $1.5MM trade exception for each player and are now $1.2MM under the tax. Knight carries cap hits of $14.6MM for this season and $15.6MM for 2019/20, while Chriss has a $3.2MM expiring deal. Cleveland is dangerously close to tax territory for next season, Marks adds, hovering about $10MM below without accounting for a projected top five draft pick.
Houston will save $6.3MM in projected tax payments and bring its bill down to $6.1MM, Marks notes in a separate post. The total could drop even lower depending on what happens with $1.5MM in bonuses for Clint Capela, who is sidelined after thumb surgery. The Rockets will inherit Shumpert's Bird rights and will sit about $4MM above the tax threshold with the addition of the three players.
The Rockets had been seeking veteran wing help and were hoping to unload the contracts of Knight and Chriss after acquiring them from Phoenix over the summer in a deal to unload Ryan Anderson's hefty salary. Shumpert has an $11MM expiring contract. Burks also has an expiring deal worth a little more than $11.5MM.
Photo courtesy of USA Today Sports Images.