For Enes Kanter, joining the Trail Blazers as a free agent signified his willingness to sacrifice for a winning team. He began the 2018/19 season with the Knicks, but his minutes started to decline when the franchise committed to developing its younger players with an eye toward June's draft.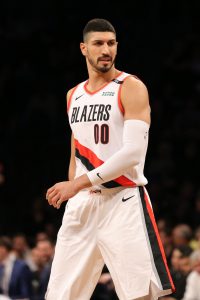 Kanter's stint in New York ended early, culminating in a final meeting between him, head coach David Fizdale, president of basketball operations Steve Mills, and general manager Scott Perry on the afternoon of February 7. Unable to find a trade, the Knicks wished him well, mutually agreeing on a release that would allow Kanter to select a new home from a list of interested playoff contenders.
"My dream from day one has always been the playoffs," Kanter told Hoops Rumors this week.
Kanter would ultimately choose to sign with the Blazers in free agency. The team is 8-3 since acquiring the 26-year-old, who holds career averages of 11.8 PPG and 7.6 RPG in eight total seasons with Utah, Oklahoma City, New York, and now Portland.
Kanter spoke with Hoops Rumors to discuss why he chose the Blazers, his new role under coach Terry Stotts, a potential future in the WWE, and more:
Growing up as a kid, is being a basketball player something you've always wanted to be?
"Oh yeah, of course. It was definitely a dream come true. I was actually growing up playing soccer a lot, and later I learned I wasn't really talented there — so I switched sports and went to basketball. I started playing basketball with my first club team at 13 or 14 years old, and I've been playing ever since."
Were there any players in the sport that inspired you along the way? 
"When I was growing up, I was always looking at Hakeem Olajuwon. That was just the one guy I was looking up to. I'd say his game is probably the one I always looked up to."
So this new deal with the Blazers is just a rest-of-season contract, right?
"Yes, that's correct."
Aside from the Blazers, I heard the Celtics and Lakers expressed a lot of interest in signing you as a free agent. Were there any other teams outside of Portland you were considering?
"Yeah, I looked at a few teams. My agent [Mark Bartelstein] told me there were a few [interested] teams, but I thought Portland was the one that made sense the most."
Why did Portland make the most sense?
"I think probably their winning culture. Portland was obviously fourth in the West, and this was the team that offered me that contract when I chose to re-sign with Oklahoma City [in 2015]. So when [Blazers president of basketball operations] Neil [Olshey] texted me, I was super-excited, super-emotional, because I feel like I owe him something. The winning culture, the friendship they have, and the fans definitely impacted my free-agent decision."
What's it like to play for someone like Terry Stotts, a head coach who has been in his position since 2012?
"He's definitely one of the best coaches I've ever played under. Not just on the court, but off the court. He's the type of coach that tells you what you need to hear, not what you want to hear. And then obviously with the situation between me and Turkey, he's been coming in to talk to me and see if I need anything. He always asks me questions about my family — it feels like he's a part of your family. It's only my third week here, but he's made it feel like I'm part of the family since day one."
Walk me through your final day with the Knicks. Who called you in for that final meeting, and was it a mutual decision to move on at that point?
"My agent explained to me that if there was no trade by the deadline, they would look into releasing me. I said, 'Okay, that's cool.' I went to the meeting and talked with Coach Fiz, Scott Perry and Steve Mills. I'm happy that I left the Knicks on good terms. They told me, 'We know that you want to play and you want to win. That's why we're releasing you — so you can go and chase your dreams.' My dream from day one has been the playoffs. They explained to me their situation, and they said to just go out there and do my thing. So I was very happy about that."
You said you didn't want to join the Lakers because you preferred to be in a "drama-free" environment. What did you mean by that?
"There were a lot of rumors about whether they were going to get Anthony Davis or not, and how they were trying to trade almost the whole team — and it didn't happen. The younger guys were going to be pissed. So, you know, I already had enough drama with the Knicks. I just didn't want to get into more drama. I just wanted to be focused on basketball and go out there while having fun with my teammates. I want to be focused on basketball."
You tweeted last month, "Take a second to realize how blessed you are." What goes into that tweet, and what made you send it?
"There are two very good reasons behind that tweet. One is basketball. You could be in my shoes and go through that struggle of wanting to win, of wanting to play. It's so crazy that just because you want to win and you're a good player, you're sitting down [with the Knicks]. I've never seen that ever before in my life. And the second reason is because of the Turkey situation. You know, just because you're sitting at home, watching T.V., eating good food, vacationing, getting sun, going out and having fun with your friends — but there are a lot of people on the other side of the world who are struggling, getting jailed despite being innocent, getting tortured. Those were the reasons behind that tweet."
I saw a video of you visiting Alder Creek Middle School in Portland last week. How does it feel that so many kids and people look up to you today?
"It's amazing, man. It was my first event in Portland. We wanted to go to a school because obviously schools are so important for education, and those kids are our future. So that's why I wanted to go there and try to inspire the kids in not just basketball, not just having fun — but about education and life. They were so interested in my story, and I shared a lot of basketball stories. They loved it. I want to do two to three events per week, but the most important ones are the schools."
Alright, so switching gears here: How serious are you about pursuing a career in the WWE after your playing days are over?
"Actually, I was just watching RAW on Monday night. I'm very serious about it. I feel like it's my world. You just got to go out there, talk trash, troll people. Lifting, I love lifting. It's just fun, man. I don't want to stop my sports career when I'm done with basketball. A lot of people go into broadcasting, coaching, but I want to continue opening the door in sports. That's why I'm very serious about it. I'm already in contact with some of the people from the WWE."
Who are you in contact with?
"Paul Heyman, some of the wrestlers. I'm actually trying to meet with [WWE Chairman and CEO] Vince McMahon."
Is there anyone specific who's motivated you to join the WWE, or is it just the company as a whole?
"I'll just say it was my hobby in college because I didn't get to play [basketball] in college. And so I said I'll just do it after my basketball career. I'm very serious about it."
I know you saw the video of Russell Westbrook going back-and-forth with a disrespectful fan in Utah on Monday. You played with him for several seasons. Is that something that happens frequently, whether it's with him or another player? Does the overall security with the player-fan interactions need to be improved in this league?
"Yeah, it does happen a lot. And the fan knows that if the player says something, it's going to be all over the internet and the player is going to get a big fine [Westbrook was fined $25K by the league office this week]. That's why the fans don't really care, because they know they'll be fine. But we know that we're going to be fined, or it's going to be all over the internet so we get embarrassed. I think the league definitely should do something about that."
Where do you see yourself fitting in with this group? It looks like you're being used in that off-the-bench, scoring role.
"My thing is just to come off the bench, bring toughness, try to get every rebound and attack the basket. Go for the one-on-one. If they bring a double team, make the extra pass and make my teammates better. That's my thing now."
Assuming you guys make the postseason this spring, what's your mentality now that you're finally getting back to where you belong?
"I think we're just about guaranteed to make the playoffs — the question is how far we can go in those playoffs. That has to be our question."
Photo courtesy of USA Today Sports Images.