Shooting guard Bryn Forbes is headed to the Nuggets as the headliner of a three-team deal between Denver, the Spurs and the Celtics are finalizing a three-team trade agreement, per Adrian Wojnarowski of ESPN.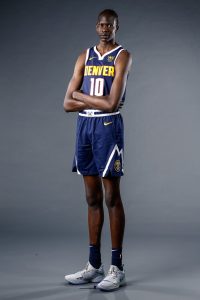 Beyond Forbes once again joining a playoff contender, power forward Juancho Hernangomez and Denver's 2028 second-round pick are heading to San Antonio. Finally, two injured players, power forward Bol Bol and guard PJ Dozier, are en route to the Celtics in a cost-cutting move.
Woj adds that the Nuggets, who at 22-20 are currently the sixth seed in the Western Conference, are looking to get some additional (healthy) scoring out of Forbes as a reserve wing. Forbes, averaging 9.1 PPG on .432/.417/.898 shooting, fits the bill. The Nuggets had been linked to Forbes as a trade target as recently as yesterday.
Hernangomez failed to crack the 23-22 Celtics' rotation this season, averaging 1.1 PPG and 1.4 RPG across 5.3 MPG in jus 18 contests.  Woj also notes that, by getting off Hernangomez's $7MM salary, the Celtics get that much closer to ducking the NBA's punitive luxury tax.
San Antonio's decision to acquire a future draft pick and move on from Forbes, a valuable contributor on the 2021 championship-winning Bucks, could signal that the team has accepted it should be in asset-accrual mode in the weeks leading up to the league's trade deadline.
The Nuggets, struggling with injuries to several players across several positions, tried to trade Bol to the Pistons last week, only to see the deal rescinded when Bol failed his team physical. Bol subsequently went under the knife for a foot surgery this week, and is scheduled to miss several months of game action. Dozier is set to miss the rest of the 2021/22 NBA season as he continues to recover from a surgery of his own to treat a torn ACL.
Woj adds that, at least at present, the Celtics intend to retain both Dozier and Bol through this season's trade deadline.
By trading two sidelined players for one available new addition, Denver also opens up a roster spot. Mike Singer of the Denver Post tweets that a source has indicated interest from the Nuggets in possibly adding free agent center DeMarcus Cousins to shore up the team's frontcourt depth.
Cousins began the 2021/22 season with the Bucks on a non-guaranteed deal. The 6'11" big man averaged 9.1 PPG, 5.8 RPG, 1.1 APG and 0.9 SPG in 17 games with Milwaukee before being waived.