When we asked Hoops Rumors readers last fall whether the Cavaliers would win over or under 26.5 games in 2021/22, responses leaned ever so slightly toward the under, and the consensus was that Cleveland was on its way to another lottery finish. So when the Cavs won their 27th game on January 17, their season already had to be considered a major success.
Unfortunately, injuries caught up to Cleveland following a 35-21 start and the team finished just 9-17, falling out of a top-six spot in the East and into play-in territory. The banged-up Cavs then lost a pair of play-in games – one in Brooklyn and one at home vs. Atlanta – and missed out on the opportunity to compete in a postseason series.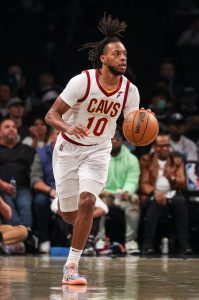 It was a disappointing finish to the year, since getting some best-of-seven playoff experience against a team like the Heat or Bucks would have been a huge step for young players like Darius Garland, Evan Mobley, and Jarrett Allen. But the organization still had to be thrilled by what it saw from its roster this past year.
After going 60-159 in the three seasons following LeBron James' departure, the '21/22 Cavs finished above .500 (44-38), showing the resilience to fight through a series of injuries to key contributors, including Collin Sexton, Ricky Rubio, Mobley, and Allen. And given how young most of Cleveland's core players still are, there's no reason to think this group has reached its ceiling.
---
The Cavaliers' Offseason Plan:
The nine players who logged the most total minutes for the Cavaliers in 2021/22 are all under contract for at least one more season, as is midseason addition Caris LeVert, so the roster shouldn't undergo any significant changes this summer. However, there are still a handful of important decisions to make.
Determining how to handle Sexton's restricted free agency will be one of the front office's top priorities. The former lottery pick emerged as one of the NBA's most dangerous backcourt scorers from 2019-21, averaging 22.5 PPG on .474/.376/.828 shooting across those two years. But he suffered a torn meniscus just 11 games into his fourth season and wasn't a factor in the Cavs' unexpected success.
As good a scorer as Sexton is, his contributions on the other end of the court are limited, and his lost season will likely reduce his leverage in contract negotiations. With so few teams possessing cap room this offseason, the Cavs are in position to play hardball in their discussions with Sexton, especially if none of those cap-room teams have serious interest in him. A deal worth at least $20-25MM annually seemed within reach for the 6'1″ guard a year ago, but now he'd be doing well to get $15-17MM per season.
The presence of LeVert should provide the Cavs with additional leverage in their talks with Sexton. LeVert wasn't at his best after joining the Cavs, averaging a modest 13.6 PPG in 19 games, but he's just one year removed from a 20+ PPG season, and his size makes him a more natural fit next to Garland in Cleveland's backcourt.
LeVert will be extension-eligible this offseason, so the Cavs should be able to get a sense of what sort of deals both he and Sexton are seeking before investing long-term in one or the other — or both.
Like LeVert, Garland and Kevin Love will be eligible for contract extensions this summer. Talks with Garland should be reasonably straightforward, as he has earned a maximum-salary offer following an All-Star campaign. It should just be a matter of whether or not he gets the full five years.
Love is less likely to receive a new deal in the coming months, since his $28.9MM expiring contract could be useful in trade talks during the offseason or at the 2023 deadline. But if he's willing to take a significant pay cut, Cleveland would likely entertain the idea of an extension for Love, who had a nice bounce-back year in 2021/22 and was the Sixth Man of the Year runner-up.
As a result of missing out on the playoffs, the Cavs retained their first-round pick, which would have gone to Indiana if it had landed outside of the lottery. That No. 14 overall selection probably won't yield a star, but it's an intriguing asset as Cleveland looks to add more shooting and defense on the wing.
Ohio State's Malaki Branham, Kansas' Ochai Agbaji, Baylor's Jeremy Sochan, and LSU's Tari Eason all make sense as potential targets if the Cavs keep the pick. It could also be dangled in trade talks if Cleveland wants to acquire a veteran who is a better bet to contribute immediately.
---
Salary Cap Situation
Note: Our salary cap figures are based on the league's latest projection ($122MM) for 2022/23.
Guaranteed Salary
Kevin Love ($28,942,830)
Jarrett Allen ($20,000,000)
Caris LeVert ($18,796,296)
Lauri Markkanen ($16,475,454)
Darius Garland ($8,920,795)
Evan Mobley ($8,478,720)
Cedi Osman ($7,426,088)
Isaac Okoro ($7,040,880)
Dylan Windler ($4,037,278)
Total: $120,118,341

Player Options
Team Options
Non-Guaranteed Salary
Restricted Free Agents
Collin Sexton ($7,228,448 qualifying offer / $19,049,013 cap hold): Bird rights
Moses Brown ($2,076,674 qualifying offer / $2,076,674 cap hold): Non-Bird rights
Total (cap holds): $21,125,687

Two-Way Free Agents
Draft Picks
No. 14 overall pick ($3,865,920)
No. 39 overall pick (no cap hold)
No. 56 overall pick (no cap hold)
Total: $3,865,920
Extension-Eligible Players
Note: These are players who are either already eligible for an extension or will become eligible before the 2022/23 season begins.
Darius Garland (rookie scale)
Caris LeVert (veteran)
Kevin Love (veteran)
Dean Wade (veteran) 2
Dylan Windler (rookie scale)
Unrestricted Free Agents / Other Cap Holds
Offseason Cap Outlook

With $120MM+ in guaranteed money on their books, plus Wade, Stevens, and a first-round pick to account for, the Cavs will almost certainly be over the projected $122MM cap.
Whether or not they approach the tax line will hinge largely on whether Sexton is back and how big his first-year salary is. Even with a new deal for Sexton on the books, Cleveland shouldn't be a taxpayer next season.
Cap Exceptions Available
Mid-level exception: $10,349,000 4
Bi-annual exception: $4,050,000 4
Trade exception: $858,218
Trade exception: $300,000
Footnotes
Wade's salary will remain non-guaranteed even if his option is exercised.
Wade would only be eligible if his option is exercised.
The cap hold for Dellavedova remain on the Cavaliers' books from a prior season because he hasn't been renounced. He can't be used in a sign-and-trade deal.
These are projected values. If the Cavaliers approach or cross the tax line, they may not have access to the full mid-level exception and/or bi-annual exception and would instead be limited to the taxpayer mid-level exception ($6,392,000).
---
Salary and cap information from Basketball Insiders and RealGM was used in the creation of this post.