Missed any of this week's biggest NBA headlines? We've got you covered with our Week in Review. Listed below are the most noteworthy stories from the last seven days.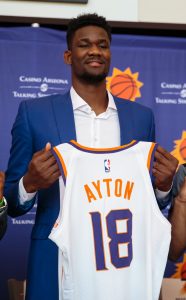 The 2018 NBA draft took place on Thursday, and the full results are right here. The Suns kicked off the proceedings by taking Deandre Ayton with the No. 1 pick, as expected, and the Mavericks made the biggest trade of the night by moving up to No. 3 to nab Luka Doncic. A recap of all the draft-night deals, including Phoenix's acquisition of Mikal Bridges and the Clippers' trade for Shai Gilgeous-Alexander, can be found here.
The Nets and Hornets agreed to a trade involving Timofey Mozgov and Dwight Howard. Although the deal can't be finalized until July 6, Mozgov will head to Charlotte along with second-round picks and cash in exchange for Howard. The former No. 1 overall pick isn't expect to stick around with the Nets though, as the two sides are said to be working on a buyout.
Kawhi Leonard met with Spurs head coach Gregg Popovich in San Diego. There's no indication that Leonard has changed his mind on his desire to be traded, but Spurs GM R.C. Buford said this week that the team still hopes to repair its relationship with the star forward.
Carmelo Anthony has informed the Thunder that he won't opt out of his contract. His decision comes as no surprise, since it locks Anthony into a salary worth nearly $28MM for 2018/19. However, it remains to be seen whether he'll ultimately suit up again for the cap-strapped Thunder, who could explore a trade or buyout.
The Hawks have reportedly placed Dennis Schroder and Kent Bazemore on the trade block. Atlanta, considered one of the NBA's most active teams in terms of trade talks leading up to the draft, didn't find a taker for Schroder or Bazemore, the two highest-paid players on the roster. However, the club figures to continue to explore potential deals.
Here are 10 more notable NBA headlines from the last week, including plenty of player-option news:
Photo courtesy of USA Today Sports Images.