Davis Bertans, who is making $7MM this year, will be a free agent at the end of the season and many around the league expect his next contract to be a lucrative one.
"He's going to be a hot commodity." a rival Eastern Conference front office executive told Hoops Rumors. "He's earned himself a sizeable raise. $15MM per season isn't out of the question. $20MM? It's possible."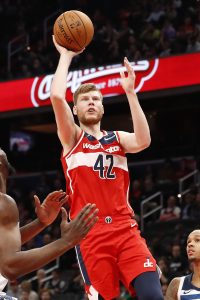 That isn't the first time we've heard numbers in that neighborhood thrown around in reference to Bertans. A former front office executive who spoke to David Aldridge of The Athletic earlier in the season estimated that the 27-year-old would get a multiyear deal worth $15-20MM annually.
The free agent landscape this summer may not be as player-friendly as it has been in recent years, since there aren't many teams projected to have significant cap room. Still, that won't stop teams from pursuing their top targets.
"If a player wants to sign somewhere and a team wants him bad enough, they'll find a way," the Eastern Conference executive said. "We just saw a bunch of sign-and-trades. We'll see more."
By all accounts, the Wizards still plan to keep Bertans through the trade deadline. GM Tommy Sheppard is a huge fan of the power forward and Bertans' presence in Washington had an influence on the team promoting fellow Latvian big man Anzejs Pasecniks to the 15-man roster. Still, it's worth wondering whether Bertans' potential price tag in free agency will make the team reconsider the possibility of a trade either before the February 6 deadline or after the season (via sign-and-trade).
[RELATED: Wizards GM: We "Intend To Keep" Davis Bertans]
Bertans, who came to the Wizards via a three-way trade with the Spurs and Nets, is enjoying a breakout campaign. He's one of just six players this season making three triples per contest while hitting them at a 40% mark or better.
Photo courtesy of USA Today Sports Images