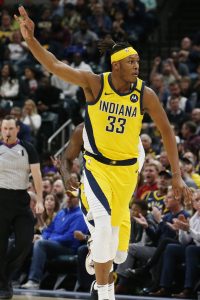 Russell Westbrook remains on the Lakers' roster, but only after the front office gave strong consideration to a blockbuster deal with the Pacers, according to Shams Charania, Sam Amick and Jovan Buha of The Athletic.
L.A.'s top decision-makers, including vice president of basketball operations and general manager Rob Pelinka, owner Jeanie Buss and senior basketball adviser Kurt Rambis, had in-depth talks about dealing Westbrook and the team's unprotected first-round picks in 2027 and 2029 to Indiana in exchange for Myles Turner and Buddy Hield, sources tell the authors.
Although rumors about the potential deal were leaked throughout the summer, The Athletic report offers insights into how close it came to actually happening.
The views of new head coach Darvin Ham, along with executives Joey and Jesse Buss were given plenty of weight as the Lakers considered how to proceed, according to Charania, Amick and Buha. A scheduled news conference involving Pelinka and Ham was delayed as the team considered whether to move forward with the Pacers deal.
As general manager, Pelinka has been given the final authority on trades, the authors add, but it appears the Buss brothers are more involved than ever in personnel decisions. It was agreed that everyone in the room should be committed to gambling on Turner and Hield, and when that didn't happen, Pelinka opted to take a cautious approach, holding onto Westbrook to see if his fit with the team improves under a new coach or if a better deal arises before the February trade deadline.
Westbrook has been doing what the Lakers have asked so far, sources tell Charania, Amick and Buha. He has met individually with Pelinka, Jeanie Buss and Ham and said he's willing to accept an off-the-ball role this season. He's also shown a willingness to adapt to Ham's system throughout training camp, focusing more on setting screens, pushing the ball in transition and trying to set up teammates rather than looking for his own shot.
The Indiana deal was one of several trades the Lakers considered this summer, according to the authors' sources. They also sought to acquire Kyrie Irving from the Nets and both Bojan Bogdanovic and Jordan Clarkson from the Jazz. Irving will be a free agent in July, but he's not currently in the Lakers' plans, the authors add.
In addition, several versions of the Pacers trade were discussed. One involved Westbrook and one of the first-rounders for Turner, while others focused on Hield. Formal talks between the teams began after Summer League, the authors' sources said, and the Lakers' initial offer was Westbrook, one first-round pick and a second-rounder for Turner and Hield. There were also discussions about including a third team, possibly the Grizzlies, but the Pacers were firm in their stance that they wouldn't agree to a deal unless they got both Lakers' first-round picks in return.
The contract status of Turner and Hield may have pushed the Lakers to their final decision, the authors add. Turner is headed for free agency next summer and may be able to command $25MM per year in his next contract. With LeBron James and Anthony Davis already on the roster, L.A. was reluctant to have its three highest-paid players in the front court when the league is becoming more perimeter-oriented, according to The Athletic sources. Hield is under contract for $21.7MM this season and $19.2MM in 2023/24 and is reportedly open to being traded.