The Trail Blazers have decided to guarantee forward Jabari Walker's $1.7MM contract for the upcoming season, according to Sean Highkin of Rose Garden Report (Twitter link). The team faced a July 20 deadline to decide whether or not to keep Walker's salary on the books.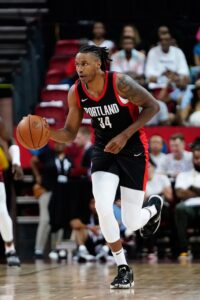 [RELATED: Early NBA Salary Guarantee Dates For 2023/24]
According to Highkin, the decision to guarantee Walker's salary was a formality after the forward's strong showing in Las Vegas this month. In five Summer League games, Walker averaged 12.4 points and 9.0 rebounds while shooting 62.9% from the floor.
The Blazers selected Walker, a forward out of Colorado, in the second round (No. 57 overall) in the 2022 NBA draft. He averaged 3.9 points and 2.3 rebounds in 56 games as a rookie.
Walker didn't play much for most of the season, but closed the year on a high note after the Blazers shut down many core rotation pieces. In his final 10 appearances of the season, he averaged 9.4 points and 3.9 rebounds in 21.8 minutes per contest.
Portland appears to think highly of Walker, having opted to keep him around on a standard contract for a second straight season. Since the inception of the two-way contract, many late second round picks begin their careers on two-way pacts rather than standard deals. The Trail Blazers signed Walker to a standard contract despite him being the second-to-last pick in the 2022 draft. Now, he appears locked in to a 15-man roster spot and a potential rotation role for the upcoming season.
Walker has a non-guaranteed contract for the 2024/25 season at $2.01MM, which would become fully guaranteed on July 20, 2024. He'll become eligible for restricted free agency in 2025 if he's not extended before then.
Portland now has 12 players on guaranteed standard contracts and another, Jeenathan Williams, on a non-guaranteed standard contract. Williams' $1.7MM non-guaranteed salary becomes fully guaranteed on Aug. 1. The Trail Blazers also have two players on two-way contracts (John Butler and Ibou Badji).