The Bucks have reached an agreement to trade for star Trail Blazers guard Damian Lillard in a blockbuster three-team deal that also includes the Suns, reports Adrian Wojnarowski of ESPN (Twitter links).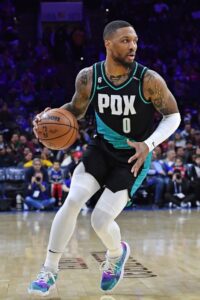 According to Wojnarowski, Portland will acquire guard Jrue Holiday and an unprotected 2029 first-round pick from the Bucks, along with the right to swap first-round picks with Milwaukee in 2028 and 2030. The Blazers will also get center Deandre Ayton, and rookie forward Toumani Camara from the Suns in the deal.
In exchange for Ayton, Phoenix will receive center Jusuf Nurkic, forward Nassir Little, and guard Keon Johnson from Portland, as well as wing Grayson Allen from Milwaukee, per Woj.
The massive deal is the culmination of a saga that lasted nearly three months, as Lillard requested a trade out of Portland in early July. The seven-time All-Star had spent his entire 11-year NBA career with the Trail Blazers but felt that the team was no longer moving toward championship contention following consecutive lottery seasons and sought a change of scenery.
Miami was Lillard's landing spot of choice, but reports throughout the process indicated that there was little contact between the Heat and Trail Blazers. In recent days, with the Blazers believed to be working to make a deal before the start of training camp, other Eastern Conference suitors like the Raptors and Bucks were increasingly connected to the 33-year-old.
Milwaukee has emerged as the surprise winner of the Lillard sweepstakes, beating a series of conference rivals to the punch and strengthening a core that also includes two-time MVP Giannis Antetokounmpo and standout starters Khris Middleton and Brook Lopez, who both signed new free agent contracts with the club this offseason.
While there have been questions about whether Lillard would be happy about reporting to any team besides the Heat, he and Antetokounmpo have both expressed a desire to play with one another over the years, as Chris Haynes of Bleacher Report and Alex Kennedy of BasketballNews.com point out (all Twitter links). And the Bucks should certainly give Lillard the best chance to win a title he has had in his career.
Meanwhile, Antetokounmpo may not be any more inclined to sign a long-term extension with the Bucks following the acquisition of Lillard than he was earlier in the offseason, given that he would benefit financially from waiting another year. However, in dealing for another star like Lillard, the Bucks' front office certainly proved it heard Giannis' call for the organization to be as serious about contending for titles as he is.
The Blazers, who patiently scoured the market for most of the offseason in the wake of Lillard's trade request, will come away from the deal with a pair of intriguing new players in Ayton and Holiday, though the big man is more likely to remain in Portland than the veteran guard.
According to Wojnarowski (Twitter link), the Blazers – who are focused on developing a young backcourt that features Shaedon Sharpe, Anfernee Simons, and this year's No. 3 overall pick Scoot Henderson – remain engaged in trade talks involving Holiday and could flip him to a contender for additional assets.
More to come…