1:53pm: While Charania's reporting (detailed below) suggested that testing on Johnson's wrist didn't show a fracture, the Hawks stated in a press release that the forward has been diagnosed with a left distal radius fracture.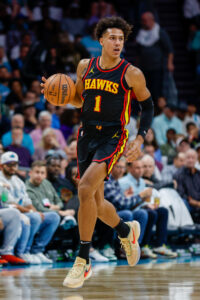 However, the team's announcement doesn't necessarily contradict the recovery timeline provided by Charania. According to the Hawks, Johnson will be reevaluated in about three or four weeks.
---
11:30am: Hawks forward Jalen Johnson is expected to miss four-to-six weeks due to a left wrist injury, sources tell Shams Charania of The Athletic (Twitter link).
While Atlanta will have to get by without one of its most important players until at least late December – and possibly until sometime in January – there's some good news, according to Charania. Testing on Johnson's wrist showed no fractures or a need for surgery, which would've sidelined him for even longer. Charania refers to it as a "best-case scenario" (Twitter link).
As we outlined earlier today, Johnson left Saturday's game vs. the Wizards about two-and-a-half minutes into the second quarter after taking a hard hit from Kyle Kuzma as he attempted to complete a fast-break dunk (video link). Johnson fell into the stanchion and landed on his left hand, which he immediately grabbed in obvious pain. After taking his free throws, he exited to the locker room and didn't return.
Johnson had gotten off to an extremely strong start for the Hawks this season, establishing himself as a dynamic two-way player after having been known primarily for his defense in his first two NBA seasons.
Entering Saturday's contest, the 21-year-old had averaged 14.6 points, 7.7 rebounds, and 2.5 assists in 31.4 minutes per night (14 games), with a .590/.421/.774 shooting line. He came off the bench a few times early in the season, but had started Atlanta's past 10 games.
In Johnson's absence, the Hawks figure to lean more heavily on De'Andre Hunter and Saddiq Bey, with second-year forward AJ Griffin moving up the depth chart and perhaps playing more regular minutes.