Appearing on The Comfortable Pod (YouTube link) with Marcus Bagley, Bulls center Andre Drummond was asked about the hiatus he took last season for mental health reasons and admitted that he has found it challenging to go from a franchise player in Detroit to a little-used reserve within the last few years.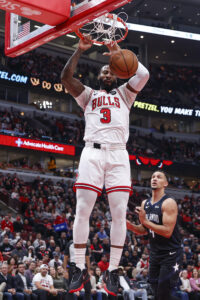 While it sounds like the veteran big man has come to terms with his role in Chicago heading into 2023/24, the conversation led to a discussion about Drummond's professional résumé and his place in NBA history. He was an All-Star in 2016 and 2018, made an All-NBA team in '16, led the league in rebounds per game four times, is the NBA's all-time leader in rebound percentage, and won a World Cup gold medal with Team USA in 2014.
"I used to play 40-plus minutes. I was a star — All-Star, All-NBA, I've done it. Hall of Fame candidate, best rebounder ever," Drummond said (hat tip to NBC Sports). "… I've done great in my career. I think I have a chance to be a Hall of Fame player due to what I've done in my career. Actually, I'm pretty sure I'm in the top 20 for being in the Hall of Fame, so I have a great chance."
Asked where he'd rank himself compared to other centers in NBA history, Drummond replied, "I'd give myself top 30, top 20. I don't see why not. I've done amazing things in my career."
Given that Drummond – who is still just 30 years old – averaged a career-low 12.7 minutes per game for the Bulls last season, it may seem outlandish on the surface to consider him a Hall of Fame candidate. But his claim that he's the best rebounder the NBA has ever seen isn't without merit.
Drummond has averaged 12.7 rebounds in 28.2 minutes per game across 785 career appearances. Dennis Rodman, widely considered the NBA's greatest rebounder, averaged 13.1 in 31.7 minutes per night (911 games). The two men rank first and second in league history in rebound percentage, with Drummond (24.85%) comfortably ahead of Rodman (23.44%), for now.
Of course, while he has always excelled as a rebounder, Drummond hasn't necessarily been elite in other areas of the game. He's a solid scorer and defender around the basket, but has seen his role reduced in recent years because he doesn't stretch the floor on offense and isn't particularly switchable on defense. He also doesn't have the sort of postseason accolades that bolster a Hall of Fame case — his teams have won just two games in four playoff appearances.
In an earlier era, when NBA teams were built around traditional centers, Drummond would have been in a better position to enjoy a Hall of Fame career. He could still have several more seasons ahead of him to continue building his résumé, but his case will be harder to make in the modern-day game.