Throughout the spring and summer, Hoops Rumors will be talking with some of the most intriguing prospects in the 2015 NBA Draft. Today, the Hoops Rumors Draft Prospect Q&A series continues with Harvard point guard Wesley Saunders.  
Many notable figures in U.S. history have cut their teeth at Harvard, but there haven't been a ton of high-level professional athletes to come out of Cambridge, Massachusetts.  Point guard Wesley Saunders, however, could be an exception.  After leading the Crimson to three consecutive NCAA tournament appearances and two memorable upsets, Saunders is now looking to continue his career at the highest level.  Saunders, who is racking up serious frequent flyer miles as he auditions for teams all across the country, spoke with Hoops Rumors at the airport before heading to Atlanta to work out for the Hawks.
Zach Links: What workouts do you have scheduled?
Wesley Saunders: When all is said and done I'll have worked out for the 76ers, Hawks, Mavericks, Clippers, Bulls, Magic, Bucks, and Knicks.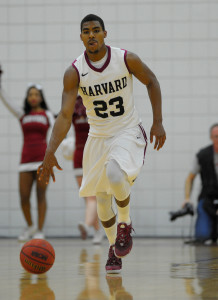 ZL: Do you think it'll be tough bouncing around from city to city so quickly and giving 100% for each of these?
WS: I don't necessarily think it's too much pressure, really.  In the Ivy League we used to play games back-to-back on the weekends, so I have a bit of an advantage over some of the other guys from different conferences because I'm used to it.  I'm used to going out there one night and giving my all on the court and doing it all over again the next night.
ZL: How did the 76ers workout go?
WS: It went well.  It was my first one so I was a little bit nervous.  I didn't know what to expect going in but I think that those guys have a really great workout plan laid out.  It was fast-paced, quick, and efficient.  I did a lot of shooting drills, some 1-on-1, some 3-on-3.  This is fun for me, we've been working out and getting ready for these workouts so I'm well prepared.
ZL: Where are you working out of?  Are you working out with other players?
WS: I've been in the Los Angeles area, mostly at USC and Westchester High School.  I've mostly been doing it solo but I've also worked out a bit with Dwayne Polee since we're in the same agency.
ZL: If you had to compare yourself to an NBA player, who would it be?
WS: I'd say Wesley Matthews.  I think that coming out of college we have some similar skill sets.  We're around 6'5″ and 220 pounds.  A lot of people say we're not super athletic, but we're certainly athletic enough.  [Matthews] was by no means a lights-out shooter like he is now.  He developed that later on and I think I can develop in the same way that he did.  He created a great career for himself and he's one of the best shooting guards in the league right now.
ZL: What do you think makes you stand out over other point guards in this class?
WS: I think it's my versatility.  I have the ability to make plays for myself or for others and I have a high basketball IQ.  I'm good at playing out of the pick-and-roll and that's like 80 or 90% of the game in the NBA right now.  I can defend against 1s, 2s, or 3s on defense and I just think that I have that jack-of-all-trades quality.  I can fit into a lot of different roles.
ZL: What do you want to work on?
WS: I definitely want to work on my shooting consistency from three-point range.  I shot about 42% from outside this year, but that's the college three.  The NBA three is a whole different animal.  I also want to improve my lateral quickness and my explosiveness so that I can really stay in front of those quick 1s.
ZL: In the last three years your Harvard teams have wound up on the national stage in the NCAA tournament.  What was your anxiety level like going into each tourney?
WS: I was the most nervous for the first one against New Mexico. I think that was because we had never been there before, so everything was kind of brand new.  We were playing against a really good team and people said they were a possible FInal Four team.  They were a really popular tournament pick.  We were an underdog.  Nobody really knew about us.  We just got into a rhythm and we were able to pull out the win.
The next year against Cincinnati was a little bit different.  Going into it we were really confident.  We felt like with the type of team they were, we could definitely have some success against them.  We went in, we executed our game plan and came out with a victory.
This year against North Carolina, that was another one where we had a lot of nerves.  That's obviously a program with a storied history and so many great players have come through there.  Obviously we were all familiar with Roy Williams and all the great players they had; at the same time, we've been there before.  We've been the underdogs, so we knew we could get it done.  Unfortunately, we couldn't pull it out, but we gave them a good battle.
ZL: I imagine that the academic pressures of playing at Harvard can be pretty overwhelming for some guys.
WS: Honestly, it really wasn't for me because I went to a great high school and that prepared me for the academic load at Harvard.  It all just came down to time management.
ZL: Was that a concern for you before you committed to Harvard?
WS: I don't think I had any hesitations about Harvard from that standpoint.  The real hesitation for me was from a basketball standpoint: Was Harvard good enough athletically for me to really achieve my dream in the NBA?  But, after talking to Coach [Tommy] Amaker and getting a feel for his vision of the program and where I would fit in, I felt comfortable that if I worked hard and believed in his system that I would be able to achieve my dream.
ZL: What led you to choose Tandem Sports and Entertainment to represent you?
WS: I just felt like I really fell in line with the players that they have already in their agency.  They have some really high character guys and I really felt like they do things the right way.
Everybody in the agency is honest and trustworthy and they're people that really want to help me with my career going forward.  I think they're very professional and, at the same time, they really have a vested interest in my success.  They're helping me to have not only a great basketball career, but a great life just moving forward, so I definitely felt comfortable with them.
Photo courtesy of USA Today Sports Images.