After joyously celebrating Smush Parker's June 1 birthday, we're back to honor the best NBA content from around the blogosphere a day later than typically scheduled. This week we shine a light on what's going on the league in a 100% Warriors– and Cavaliers-free link dump.
If you have a feature you think deserves recognition, hit me up on Twitter this week (@AustinKent) or send your tips directly to Hoops Rumors at HoopsRumorsTips@Sports.ws. Remember, the best submissions are almost always about Darko Milicic unique and entertaining.
---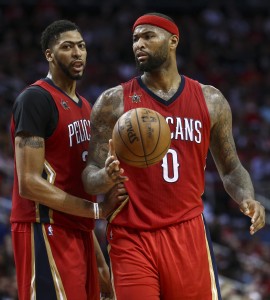 The Pelicans would be wise to bring in certified hard-ass Sam Mitchell to lead Anthony Davis and DeMarcus Cousins to new heights, Oleh Kosel of The Bird Writes suggests. Mitchell has a reputation for being sharply outspoken and unafraid to challenge his most talented players. The connection to Kevin Garnett, Kosel adds, could further help the highly anticipated frontcourt duo improve in 2017/18.
Rating: 9 out of 10 Alleged Vince Carter Body Slams
Author: Oleh Kosel – @RedHopeful
Link: Sam Mitchell should coach the Pelicans
---
Findings from a recent Harvard study suggest that the Mavericks may have the most loyal fan base in the NBA. Per John Howe of Mavs Moneyball, the results don't definitively put the organization on a pedestal but do reveal that attendance at the American Airlines Center across the last 15 seasons is the least dependent on winning percentage in the league. The club on the other end of the spectrum? According to the Harvard Sports Analysis Collective: the Clippers.
Rating: 8 out of 10 Promotional Mark Cuban Schemes
Author: John Howe – @JohnHowe_NBA
Link: NBA fan loyalty
---
It's hard to get a good read on Tim Hardaway Jr.'s potential and as a result it's hard to gauge what sort of deal he might land in free agency. Xavier Cooper of Soaring Down South recently noted that the swingman has made strides over the course of the past few seasons, most recently with the Hawks, and appears as committed to improving as ever. One question remains, however: what is the streaky guard's ceiling?
Rating: 7 out of 10 Run TMC Progeny
Author: Xavier Cooper – @XQuartezCooper
Link: Tim Hardaway Jr. improvement
---
When given the opportunity to play a meaningful role in the Raptors rotation, Lucas Nogueira showed that he was up to the task, providing many of the things that his predecessor Bismack Biyombo did during Toronto's 2015/16 playoff run. The Serge Ibaka deal, however, bumped the 24-year-old down the organization's depth chart and into a form of professional limbo. Count Blake Murphy of Raptors Republic among those high on the third-string center, but skeptical that he'll see a bigger role in Toronto any time soon.
Rating: 9 out of 10 Unique Ways To Tuck In Your Jersey
Author: Blake Murphy – @BlakeMurphyODC
Link: Lucas Nogueira Raptors depth chart
---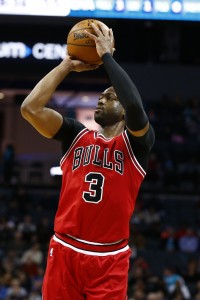 The Bulls should start talking to Dwyane Wade about stepping into a sixth man role prior to his player option deadline later this month, Tyler Pleiss of Blog a Bull suggests. If Fred Hoiberg waits to have that conversation until after he commits, unnecessary friction could spill over into the 2017/18 campaign. Chicago, don't forget, went on their late-season surge to the postseason with Wade on the sidelines altogether.
Rating: 8 out of 10 Awkward Conversations
Author: Tyler Pleiss – @Tyler_Pleiss
Link: Dwyane Wade sixth man role
---
The Lakers made a mistake signing Luol Deng to a four-year, $72MM contract last season and now the new executive regime in Los Angeles can try to fix it. In the eyes of Nick Ziegler of Lake Show Life, Deng's presence only impedes Brandon Ingram's progress, and the veteran forward should be dealt even if it involves dangling other assets as bait in a possible salary dump.
Rating: 7 out of 10 Mulligans
Author: Nick Ziegler – @NickZiegler20
Link: Lakers should trade Luol Deng
---
There are plenty of ways to quantify Aron Baynes' impact on the Pistons, but skewing his value as free agency approaches are a lower-than-expected 2017/18 salary cap and the lackluster results of the reserves who signed big contracts last summer, Duncan Smith of Piston Powered writes. Baynes can pick up his player option to remain with the Pistons at $6.5MM or decline it and look for more on the open market.
Rating: 9 out of 10 Unfortunate Hairstyles
Author: Duncan Smith – @DuncanSmithNBA
Link: Pistons free agent Aron Baynes
---
The most underrated story line in the NBA this year is that of Enes Kanter and his relationship with Turkey. We're not just talking about the recent passport cancellation either. On Thursday, Yaron Weitzman published a must-read Bleacher Report feature that breaks down the saga that has played out between the Thunder big man and his home country over the course of the past year.
Rating: 10 out of 10 Geopolitical Homework Assignments
Author: Yaron Weitzman – @YaronWeitzman
Link: Enes Kanter and Turkey
---
The Nets should make a push to land free agent Danilo Gallinari this offseason, Leo Mar of Nothin' But Nets writes. Head coach Kenny Atkinson worked previously with the Italian forward during Gallinari's rookie season back in 2008. More importantly, Mar adds, Gallinari's offense would pair well with Brook Lopez's so long as he is able to stay reasonably healthy.
Rating: 8 out of 10 Roosters
Author: Leo Mar – @Leo_Mar8824
Link: Nets should sign Danilo Gallinari
---
Having agreed to part ways with the Heat, Chris Bosh will set his sights on suiting up for another NBA team in 2017/18. Kevin Haswell of Hot Hot Hoops, however, doesn't think that the big man will find his way into a team's lineup despite his established talent. Haswell cites a David Aldridge feature that gauged the interest league executives had in the free-agent-to-be.
Rating: 7 out of 10 Moral Dilemmas
Author: Kevin Haswell – @KevinRHaswell
Link: Will anybody sign Chris Bosh?