For the third straight season, Julius Randle made progress establishing himself as a significant factor in the Lakers' frontcourt. However, that progress won't impact whether or not the 22-year-old inks a contract extension prior to the October 16th deadline.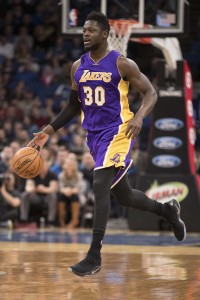 No, Randle's fate – perhaps more than any other player headed into the final year of a rookie contract – is tied to the lofty ambitions of the franchise that he plays for.
Put simply, the Lakers are all-in on preserving cap space for the 2018 free agency period — a period in which they'll inevitably pursue LeBron James and Paul George. Or LeBron James and Russell Westbrook. Or LeBron James and any other star player who opts to test the waters next summer, it really just depends on which barber you ask.
This isn't a knock on Randle. It's a reality. The same reality that saw L.A. ship D'Angelo Russell out of town just to alleviate the club's $16MM obligation to Timofey Mozgov in 2018/19.
Signing Randle to any extension in the realm of what he would justifiably qualify for before the October deadline would unnecessarily eat into the room that the Lakers would need in order to make a big, nay, massive splash next offseason. As it stands, Los Angeles has just under $54MM on their books for the 2018/19 season and you can bet the farm that they club will do anything within reason to unload Luol Deng's 18MM as soon as conceivably possible.
Of course, the Lakers can always circle back to Randle as a restricted free agent once they have a better idea of how their 2018 offseason will play out, but that obviously comes with inherent risk. It's not inconceivable that Randle will raise his value this season and coax an aggressive offer sheet out of a team with cap space to burn.
So the question isn't whether Randle will earn a contract extension in the next month – that almost certainly won't happen – but rather if his play thus far has warranted it.
In his two full seasons with the Lakers, Randle has averaged just under a double double, putting up 12.2 PPG and 9.4 RPG while flashing impressive vision for a post player and a handle reminiscent of a slightly less polished Blake Griffin (that's still a good thing).
Randle's per-36 numbers ooze Zach Randolph-esque potential and the fact that he's a productive contributor who doesn't require much of the spotlight bodes well for a Lakers team that has every intention of filling the lineup around him with stars.
Expect Randle, already a competent third or fourth option, to take yet another step forward in 2017/18. The power forward has committed to improving his physical conditioning this summer and will now play alongside Lonzo Ball, one of the most exciting playmakers to come into the league in years.
We saw excellent rebound and assist rates out of Randle last season, as well as a modest 13.2 points per contest. That last figure could jump up to a more headline-worthy level, conveniently ahead of July 2018, when he hits the market for the first time.
If the pending restricted free agent drives his value to a level that precludes Los Angeles from retaining him, then that's simply a consequence of the Lakers' own ambition.
Photo courtesy of USA Today Sports Images.