The fantasy basketball season is well underway and Hoops Rumors wants to help you make the playoffs in your season-long leagues as well as take down the competition in daily fantasy. Here are some observations and notes from around the league:
---
The Undervalued Jerami Grant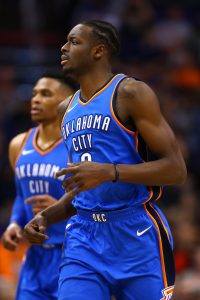 The list of players who are shooting at least 52.0% from the field while adding at least one block and one 3-pointer made per game this season: Jerami Grant and…that's it. Bring the filter down to 50% shooting and Anthony Davis (50.8%), Al Horford (51.9%), Kevin Durant (51.2%), and Nikola Vucevic (51.8%) join the Thunder's utility knife.
Grant, who has double-doubled in five straight games, lends fantasy owners production in multiple categories without being a nuisance in the remaining fields. He's averaging less than one turnover per game. He's hitting 70% of his foul shots on the year on nearly three attempts per game, and has increased that rate to 83.7% over the past month. Over the past 30 days, he's added 1.1 steals per game.
Since the beginning of December, the Thunder have played at the fastest pace in the league and Grant has solidified himself as the third-best player in a good fantasy basketball situation. Grant joins Paul George, who is rightfully gaining attention as a top player in the league, and Russell Westbrook, whose putrid shooting percentages and high turnover rate have led him to be chronically overvalued by many, as a must-own player in 9-cat leagues.
---
What's Brewing In Philly
The Sixers appear to have hit on another mid-season free agent acquisition with Corey Brewer.
On Monday night, Brewer started for an injured Jimmy Butler and accumulated 11 points, three rebounds, two steals, two blocks, and one assist, all while he antagonized and defended James Harden in front of a rowdy Philadelphia crowd. He's currently on a 10-day contract and it would be shocking if the Sixers do not bring him back on another deal once that concludes.
For fantasy purposes, he's not worth rostering right now, but keep an eye on him in daily leagues for potential games in which Butler or other top Sixers miss.
---
The Capela Catastrophe
Clint Capela suffered a thumb injury earlier this month and it has not gone well for the Houston frontcourt defense since the big man has been sidelined. The Rockets were able to contain a grumpy Marc Gasol in game one post-Capela but since then, the interior defense has been abysmal. Here's a rundown of how opposing centers have fared over the last three games:
The Rockets have no one who can guard opposing fives for any lengthy stretch. The team brought in Kenneth Faried to add depth to the frontcourt and he'll bring value on the offensive end, especially with his developing 3-point shot. But he's simply not equipped to solve the team's interior defense issues.
Coach Mike D'Antoni will have his work cut out for him as he tries to solve those interior woes. Perhaps the team will continue to be aggressive fouling big men when they are overmatched (Faried will at least provide six additional hacks on the defensive end). Regardless, the Rockets are an exploitable matchup for opposing fives in daily fantasy and should be targeted until either the team finds a stopgap or Capela returns.
Fantasy questions? Take to the comment section below or tweet me at @CW_Crouse.
Missed an earlier edition of Fantasy Hoops? Check out the entire series here.
Photo courtesy of USA Today Sports Images.