On Thursday, the Grizzlies and Bulls completed the fifth in-season trade of the NBA's 2018/19 campaign, with Chicago sending Justin Holiday to Memphis in exchange for two players and two second-round draft picks.
While this deal was hardly a blockbuster, it features a few salary cap related details worth noting, so we'll round those up in this space…
The Bulls create a modest traded player exception: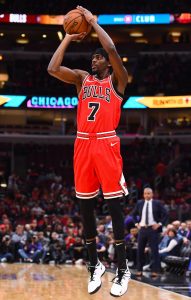 The Grizzlies had no traded player exceptions large enough to absorb Holiday's $4,384,616 salary, so they had to aggregate MarShon Brooks ($1,656,092) and Wayne Selden ($1,544,951) for matching purposes. As a result, they didn't create a TPE as a result of the deal.
On the other hand, the Bulls were able to take on Selden using the minimum salary exception, since he's earning his minimum. As such, Chicago essentially traded Holiday straight up for Brooks for salary-matching purposes, leaving the Bulls with a trade exception worth the difference between the two players' salaries: $2,728,524.
Why flipping MarShon Brooks may not be as easy as it seems:
Brooks is earning more than Selden this season because he has more years of NBA experience, but he's also making the minimum salary. So why were the Bulls able to use the minimum salary exception to absorb Selden, but not Brooks?
Well, even though Brooks is earning his minimum this season, the first season of his deal wasn't worth the minimum, as cap expert Albert Nahmad notes (via Twitter). The Grizzlies signed Brooks to a two-year pact last April, with just six days left in the 2017/18 campaign. A minimum salary contract would have paid him just $49,877 for those six days, but because Brooks was drawing interest from other suitors, Memphis upped its offer using a portion of its mid-level exception, giving him $249,348. That's five times the amount of his prorated minimum.
As such, Brooks' contract isn't technically considered a minimum salary deal, which is why the Bulls had to account for that $1,656,092 for matching purposes.
Now, with the Bulls reportedly looking to flip Brooks to another team, those same rules apply. Like Chicago, a new trade partner wouldn't be able to use the minimum salary exception to acquire Brooks. That trade partner would need a trade exception big enough to absorb his salary or would have to send back a contract in return.
That could eliminate a number of potential landing spots for the veteran guard and make it a little more challenging for the Bulls to make a second deal.
The Grizzlies still have a small amount of breathing room below the tax line:
The Grizzlies were pretty close to the luxury tax threshold before this trade. Having taken on a little money in acquiring Holiday, they're even closer now. According to Bobby Marks of ESPN.com (Twitter link), Memphis has approximately $463K in breathing room before becoming a taxpayer.
While the Grizzlies opened up a roster spot by making a two-for-one deal, using that roster spot on a rest-of-season contract right now would take them into the tax. A veteran player (at least two years of experience) signed to a minimum salary deal today would have a cap hit of $829K.
Teams can begin signing 10-day contracts as of Saturday, and the Grizzlies could fit one of those under the tax line — a veteran on a 10-day deal would cost about $85K. So Memphis could afford five 10-day contracts for the rest of the season. A sixth would take the team into tax territory.
The Grizzlies could make a separate cost-cutting move before the February 7 trade deadline to create a little more wiggle room to sign a player. If they don't reduce their team salary, however, that 15th roster spot is probably a good bet to remain open for a good chunk of the second half.
Photo courtesy of USA Today Sports Images.