Markelle Fultz is still not practicing with the Magic. There remains no timetable for his return, and with the playoffs still within reach for Orlando, it would be surprising if he plays for his new team at all this season.
However, Fultz has reached a new stage in his recovery process, moving his rehab from California – where he has spent the past few months – to Orlando, Josh Robbins of The Athletic reports.
"I think it's what's best for me and the team," Fultz said. "[It's beneficial] just being around these guys, so they see my face and I see their face. I'm going to learn as much as I can. As we make this push for the playoffs, I want to be here with my guys and just support them."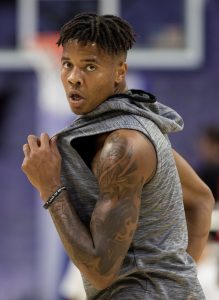 Fultz is in a good situation to turn his young career around, as the Magic are taking a patient approach in assisting him as he looks to return to his old form. "Nobody here is rushing me. Everybody here is just open to me getting right and healthy first," Fultz said.
Sounds like a movie we've seen before? Yes, the company line in Philadelphia was patience, and while the fanbase shed its typical hard-nosed Philly reputation, cheering for Fultz and embracing any progress—even baby steps—as the teenage point guard attempted to get back to his old self, the franchise grew tired of waiting. The Sixers were ready to compete in the present.
Fultz only tallied 33 games played in Philadelphia. The 2017 No. 1 overall pick was sent to the Magic from the Sixers at the trade deadline in exchange for Jonathon Simmons, a protected 2020 first-round pick (via OKC) and a 2019 second-round pick (via Cleveland).
There are reasons to believe things will be different in Orlando. The Magic are not currently built to compete for the Eastern Conference crown and the media coverage isn't as intense in Florida as it is in the City of Brotherly Love. Fultz's return to the court is expected to be less pressurized than it was in Post-Process Philly.
There is also less competition for a prominent role in the backcourt, as Orlando has no point guard of the future on its roster. Veteran point guard D.J. Augustin has been one of the Magic's most crucial players, but he'll turn 32 at the beginning of next season and will become a free agent at the end of it.
The Magic have taken shots at a few other guard prospects who have flamed out elsewhere with no real success. Jerian Grant held a role until being supplanted by Isaiah Briscoe. When Briscoe injured his knee, the team took a flyer on former No. 11 overall pick Michael Carter-Williams, though MCW is only on a 10-day contract and could wake up next Monday without a job.
There's some thought within NBA circles that teams are giving up on top draft picks too soon. Clippers coach Doc Rivers recently argued that teams are too finicky with regard to their top draft selections.
"You look at each draft and there's guys that come out at 19 and they don't take off right away. They get moved around, and the next thing you know, they're players," River said in reference to D'Angelo Russell and his son, Austin Rivers.
Part of the angst organizations face with past top draft selections is financially driven. Top draft picks can extremely cost efficient if they bloom, but if they wilt, their salaries can be burdensome. As part of his rookie deal, Fultz takes home slightly under $8.4MM this season and will collect roughly $9.7MM next year. The franchise will have to make a decision on his $12.3MM salary for 2020/21 by this fall.
For now, Fultz is confident that his rehab is going in the right direction. "It's going great. I'm feeling really good. I'm happy. I'm blessed. And as I'm going forward, I'm just sticking with the plan and just going through rehab," the point guard told Robbins.
Many people living in Northeast American cities take trips to Florida to slow down and decompress from their typical work life and while Fultz is hard at work in rehab, he'll get to experience a similar effect. A new environment provides him with a relaxed approach compared to the hustle-and-bustle mentality of the bigger city life and that might be just what the 20-year-old needs to get back on track.
Photo courtesy of USA Today Sports Images.