Most players around the NBA are now eligible to be traded, with just a few exceptions. However, there are several players who can't be dealt to specific teams this season.
NBA rules prohibit a team from trading for a player if the team traded that player away earlier in the season or during the previous offseason. In other words, if a club traded a player between the end of last year's NBA Finals and today, it's not eligible to reacquire him in a deal on or before February 6.
This rule doesn't apply if a player who was traded since last spring's Finals was subsequently waived and then signed with a new team. For instance, the Jazz and Grizzlies both traded away Kyle Korver last summer. Korver was later waived by the Suns and signed with the Bucks. If he had remained in Phoenix, Korver would be ineligible to be acquired by Utah or Memphis, but that restriction was lifted once he signed with Milwaukee.
The rule also doesn't apply to players whose draft rights were traded. For example, the Suns would technically be eligible to reacquire Jarrett Culver from the Timberwolves after trading his draft rights to Minnesota last summer.
For the most part, these restrictions won't affect teams' plans — it's not as if the Pelicans will be looking to reacquire Anthony Davis from the Lakers. Still, some of them are worth noting. If the Celtics seek frontcourt help on the trade market, for instance, they'll have to be aware of the fact that they can't reacquire Aron Baynes.
Here's the full list of players who are ineligible to be reacquired via trade by specific teams during the 2019/20 regular season:
Atlanta Hawks
Boston Celtics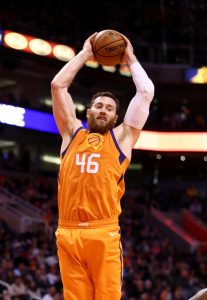 Brooklyn Nets
Charlotte Hornets
Cleveland Cavaliers
Golden State Warriors
Houston Rockets
Los Angeles Clippers
Los Angeles Lakers
Memphis Grizzlies
Miami Heat
Milwaukee Bucks
Minnesota Timberwolves
New Orleans Pelicans
Oklahoma City Thunder
Philadelphia 76ers
Phoenix Suns
Portland Trail Blazers
Sacramento Kings
San Antonio Spurs
Utah Jazz
Washington Wizards
Photo courtesy of USA Today Sports Images.