4:33pm: Oladipo plans to accompany the Pacers to Orlando, a league source tells Scott Agness of Vigilant Sports (Twitter link).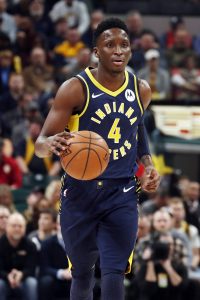 Because Oladipo is traveling with the team, Indiana won't be allowed to replace him and he won't forfeit any salary, tweets ESPN's Bobby Marks. In other words, Oladipo will essentially be treated as an injured player rather than one who is voluntarily opting out.
---
2:50pm: Pacers star Victor Oladipo has decided he won't participate in the NBA's restart in Orlando this summer, he tells Shams Charania of The Athletic.
"I really want to play, and as a competitor and teammate this is tearing me apart," Oladipo told Charania. "I feel like I'm at a great place in my rehab and getting closer and closer to 100 percent. With all the variables, from how I have to build my 5-on-5 workload back up, to the increased risk of a soft tissue injury which could delay my rehab, and the unknown exact set up of the bubble I just can't get my mind to being fully comfortable in playing.
"I have to be smart and this decision hasn't been easy, but I truly believe continuing on the course I'm on and getting fully healthy for the 2020/21 season is the right decision for me."
Oladipo, who suffered a torn quad tendon during the 2018/19 season, missed approximately a full calendar year, making his return for the Pacers on January 29. His play was somewhat inconsistent leading up to the suspension of the NBA season, and he missed five games during that stretch, but he had his best performance in Indiana's final game before the hiatus, pouring in 27 points against Boston on March 10.
Oladipo's trainer, Luke Miller, tells Charania that the two-time All-Star hasn't had a setback and is "in the best shape he's ever been in." However, Oladipo and Miller were concerned about the possibility of the Pacers guard suffering an injury in Orlando, given the truncated ramp-up period to the eight seeding games and the playoffs.
"It's not worrisome, the quad tendon itself — it's the other soft tissues around it," Miller told Charania. "Research shows that within about two years, coming back from a major injury and major surgery, these guys are more susceptible to an injury because of quad deficit. It's a lot to ask Vic to come back in three weeks from five-on-five and play in playoff games."
The Pacers – who are 39-26 and rank fifth in the Eastern Conference – are unlikely to make a deep playoff run this summer without Oladipo active. The team is also missing Jeremy Lamb (torn ACL), and Malcolm Brogdon recently tested positive for COVID-19.
Still, Indiana has the 28-year-old under contract for at least one more year, and there have been some indications that the two sides have interest in a longer-term deal. He'll be eligible for a contract extension this fall, or could get a longer, more lucrative contract as a free agent in 2021.
Photo courtesy of USA Today Sports Images.