Back in August, a report indicated that center Aron Baynes had sustained a serious neck injury and was in jeopardy of missing the entire 2021/22 season.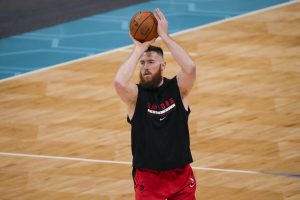 That report provided a few details on Baynes' status — the injury apparently occurred during one of Australia's Olympic contests in Japan and got worse after he slipped and fell in the team bathroom. However, additional details were scarce, and it has been nearly six months since we'd heard anything more about Baynes' condition.
For the first time, Baynes has opened up about his situation, speaking to Brian Windhorst of ESPN about his nightmarish experience in Tokyo and his long recovery process.
As Windhorst details, Baynes ran to the bathroom between the third and fourth quarters of Australia's game against Italy, but didn't return, prompting a concerned staff member to look for him. That staffer found Baynes in the locker room near the bathroom, sprawled on the floor with blood on his uniform and two puncture marks in his upper arm (possibly caused by two towel hooks on the wall).
Baynes, who had landed on his head and neck after slipping off the rim during a dunk attempt in warmups three days earlier, may have hit his head again when he fell on his way to the bathroom. He was unable to stand up or walk under his own power and was quickly rushed to a Japanese hospital, where he stayed for the rest of Australia's Olympic run, worried that he might be paralyzed.
"The loneliest time in my life was laying in that hospital, going in and out of consciousness, going over my life plan and my goals and just crying," Baynes told Windhorst. "My uncle Don had an accident 10 years ago. He's a quadriplegic. My family's had first-hand experience with this going down. I was so scared."
Baynes underwent testing and treatment in Japan, but had a hard time communicating with doctors and nurses due to the language barrier. After an MRI revealed Baynes was suffering from internal bleeding that was putting pressure on his spinal cord, his doctors in Tokyo believed he would require surgery, but an Australian neurosurgeon who had seen the condition in the past was consulted and recommended a treatment plan of medication and physical therapy in order to get the 35-year-old healthy enough to fly home to Brisbane.
After spending nearly two weeks in the Japanese hospital unable to move his limbs and dealing with nerve pain that he described as "a combination of burning, fire, knives," Baynes was able to stand up on his own and was cleared to go home, though he had to be strapped down and anesthetized for the eight-hour flight.
Baynes was in a Brisbane hospital for another month and has been completing intense physical therapy in the months since returning from Tokyo, first relearning to walk, then to run. On Wednesday, according to Windhorst, the veteran big man picked up a basketball and took some shots for the first time since the Olympics.
Baynes, who says he's made "a lot of progress" in the last few months, told ESPN that his goal is to return to the NBA for the 2022/23 season. His desire to make a comeback is related, in part, to the fact that referees aren't calling as many fouls this season, which he believes favors his physical style of play.
"It looks so much more fun now. That's how I grew up playing and I really want to get back to it," Baynes told Windhorst. "I've got the want to get there and every single day I expect a lot out of everyone around me. I don't know what the path will look like, but I'm going to give it one hell of a crack."
For more details on Baynes' last few months, including an account of Matthew Dellavedova posing as a doctor to visit his Australian teammate in the Tokyo hospital, be sure to check out Windhorst's full story.