Since joining the Nets as a free agent in 2019, Kyrie Irving has played in a total of 103 games for the team. He missed 52 of 72 games in his first year in Brooklyn as a result of a shoulder injury, missed 18 of 72 in his second year, primarily due to personal issues, and then missed 53 of 82 this past season, largely due to his COVID-19 vaccination status.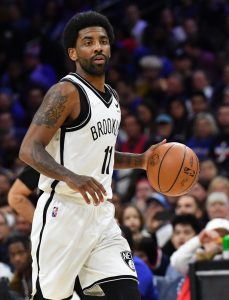 Irving's inconsistent availability, which has stemmed both from injury issues and personal choices, is a large reason why the Nets face a difficult decision on him this offseason, when he's eligible for unrestricted free agency if he turns down his $36.9MM option for 2022/23.
Irving has played at his usual All-Star level when he's been healthy, averaging an impressive 27.1 PPG, 6.0 APG, and 4.7 RPG on .490/.406/.920 shooting in those 103 appearances (35.3 MPG) he has made with the Nets. But he's on the wrong side of 30 and his unpredictable personality makes him a difficult player to invest in long-term, especially at a maximum-salary rate.
In fact, Kristian Winfield of The New York Daily News cites a source familiar with the Nets' thought process who says the team is hesitant – if not altogether unwilling – to give Irving a long-term max deal.
Winfield acknowledges that a one-year contract would likely be unacceptable for Irving, who will be seeking long-term security this offseason, so if he's going to remain in Brooklyn, the two sides may have to reach some sort of compromise.
When asked about Irving's future after the end of the Nets' season, general manager Sean Marks offered no guarantees, talking first about wanting players who are both "selfless" and "available," then later saying the team needed to talk to Kyrie's camp to see if it's "the right fit for both sides."
Still, it seems likely that Brooklyn would move forward with Irving as long as the team gets some assurances about his commitment to the franchise. For his part, Kyrie has said he doesn't plan to go anywhere.
If Irving opts out and seeks a new contract, he'd be eligible for a five-year deal worth up to a projected $247.66MM with the Nets. If he were to pick up his option and negotiate an extension from there, his maximum earnings going forward would be a little lower, but he could still get a deal that pays him a total of $232.75MM, plus possible incentives, over the next five years.
Irving could get four years and $183.61MM from another team, but it's unclear what sort of a market there will be for him outside of Brooklyn, since few contenders have significant cap flexibility and many will be wary of a long-term investment in the seven-time All-Star.
When Irving signed his initial contract with the Nets, the deal technically fell short of the maximum salary, with a series of eight incentives available each season that would increase Kyrie's salary to the max if he achieved all of them. That structure was designed at the time to allow Brooklyn to maximize its available cap room in 2019, but perhaps a similar format could work for both sides this time around, since incentives tied to total minutes or games played would give the club some protection in seasons when Irving misses time.
Of course, it's also possible that the Nets could convince Irving to accept a contract further below the max. Brooklyn was his top choice in free agency in 2019 and he hasn't shown any desire to leave — he also exhibited a willingness to sacrifice some money last season, when his decision not to get vaccinated resulted in hefty per-game fines.
We want to know what you think. Will Irving stick with the Nets? If so, he will he opt out to sign a new deal, opt in and sign an extension, or opt in without an extension? Could he end up playing elsewhere in 2022/23? Wherever he ends up, will his next contract be worth the max?
Head to the comment section below to weigh in with your two cents on Irving's future.