The curious case of Jae Crowder should be resolved over the next two weeks. If not, there's more drama on the way regarding the veteran forward.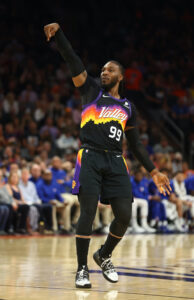 Crowder has been sitting out this season while awaiting a trade. We've seen veteran players in similar situations in recent seasons but this one has a twist. Normally, they're stuck on a rebuilding team and awaiting a trade to a contender instead of languishing on the bench behind young players earmarked for developmental minutes — think John Wall in Houston.
Crowder chose this path with an organization that won a league-best 64 regular-season games a year ago. He was reportedly frustrated that he was about to lose his starting job and didn't receive an extension on his three-year contract, which expires at the end of this season.
Phoenix had some legitimate reasons for its reluctance to extend Crowder. The Suns have some major salary cap issues for the next three seasons, especially after matching the Pacers' offer sheet for Deandre Ayton. A dicey ownership situation also factored into the equation.
Crowder is also 32 years old in a league that has gotten increasingly younger over the years. While he's considered a 3-and-D specialist, his 34.6 percent career average from deep isn't particularly noteworthy.
He did play key roles for two teams that reached the Finals – the Heat in 2020 and Suns in 2021. Miami, as well as the Bucks and Hawks, are among the teams reportedly interested in him.
It's surprising that Crowder hasn't already been dealt, particularly after mid-December, when many players who signed free agent contracts last offseason became trade-eligible.
According to a recent report, the Suns have been holding out for two of the following for Crowder: A first-round pick, a good young player, and a solid rotation player.
It's likely they'll have to drop the price tag to deal Crowder. The acquiring team can't even be sure how much he'll help them this season after sitting out for so long. Crowder has reportedly been working out regularly in the Atlanta area but there's a difference between being in good physical condition and being in basketball shape.
If he's not traded, it could get even messier. He could choose to sit out the whole season, finally rejoin the team or give back some of this season's salary in a buyout and then choose his destination after clearing waivers.
That leads us to our poll: Which team will Jae Crowder play for this season, or will he play at all? Vote and then head to the comments to weigh in with your thoughts.