Leading up to the February 9 trade deadline, we're keeping an eye on potential trade candidates from around the NBA. We're continuing that series today with a closer look at a group of centers who could be on the market.

---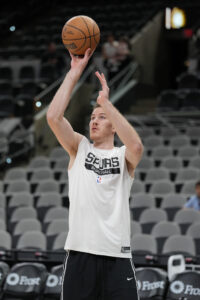 Salary: $9.4MM
Now in his seventh season, Poeltl has developed into a quality starting center during his tenure with the Spurs. Notably, he has become a more confident and reliable scorer, and a much-improved passer, while cutting back on his fouls and maintaining his typical above-average rebounding and interior defense.
The scoring and passing were really important additions to the Austrian's game. The scoring allows him to punish switches, and the play-making means he can still have an impact away from the basket — critical for a non-shooter like Poeltl.
The Spurs are reportedly looking for at least one first-round pick – and preferably two – for the 27-year-old. If a team trades for him, it needs to be both reasonably sure it can re-sign him and willing to pay him — he's expected to command around $20MM per year as a free agent, which is what Jarrett Allen received from the Cavs in 2021.
Salary: $18MM
Turner is having a career year at the perfect time, as he is certainly boosting his stock ahead of free agency. He's averaging career highs in points (17.0), rebounds (7.8), and free throw attempts (4.3) per game, as well as field goal percentage (55.1%) and three-point percentage (39.6%).
A renowned shot blocker who has led the league in that category twice, Turner's game has blossomed with the arrival of Tyrese Haliburton. If the Pacers are unable to find common ground with Turner's representatives on an extension, they would be wise to recoup value for him rather than lose him for nothing.
One potential red flag for would-be suitors: The 26-year-old has had extended injury absences each of the past two seasons, though he has been relatively healthy in 2022/23, having missed nine of 49 games to this point.
Salary: $14.32MM
Wood's situation is somewhat similar to Turner's, as both big men are having strong seasons and are reportedly discussing extensions with their respective teams. A very talented offensive player, Wood has shot at least 50% from the field and 37% from three each of the past four seasons.
The 27-year-old has bounced around, having played for seven teams in as many NBA seasons. Wood was quite skinny entering the league, isn't a great decision-maker, and has defensive concerns. There were also some question marks about his attitude, though those seem to have gone away as he's gotten more minutes in recent years.
While Wood theoretically can play both frontcourt spots, he has clearly been more effective as a center, especially on defense. He's currently dealing with a fractured left thumb, but that shouldn't impact his value much unless he needs surgery, and there's been no indication that's necessary to this point.
Given what happened last year with losing Jalen Brunson for nothing in free agency, and the fact that Dallas is over the cap and can't easily replace him, you would expect the front office to keep Wood around. Still, if an extension isn't reached, he could very well be traded.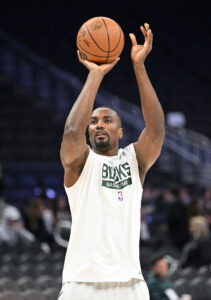 Salary: Veteran's minimum

Ibaka was a good player for a long time, leading the NBA in blocks per game twice early in his career with Oklahoma City and then transforming into a solid outside shooter. He was a key rotation player for the Raptors when they won the title in 2019.
Unfortunately, Ibaka underwent back surgery in June 2021 while with the Clippers and hasn't looked the same since. At 33 years old and in his 14th season, he certainly has a wealth of experience, but it's unclear how much he can contribute at this point in his career.
The Bucks reportedly agreed to seek a trade for the veteran big man, who has only made 16 appearances in '22/23. The Nets, Heat and Hawks are among the teams said to have interest in Ibaka.
Salary: $9.08MM
An energetic big man, Plumlee is surprisingly having a career year for a 13-35 Hornets team that currently has the third-worst record in the NBA. Considering he turns 33 in a couple months, is an impending free agent, and the Hornets are going nowhere this season, it's fair to wonder why Plumlee is playing a career-high 28.3 minutes per game, but he has provided solid production.
Through 48 games, all starts, the veteran center is averaging career highs in points (12.0), rebounds (9.8) and FG% (66.8). He's also tied for a career-high in assists per game with 3.6.
All of those things are positives, but Plumlee is a subpar defensive player who isn't a threat to shoot, though the right-handed center has busted out a one-handed lefty jump shot on occasion, and it is a sight to behold; he's actually shooting above his career mark from the free throw line with it. He's ideally more of a decent backup than a starter, but maybe the Hornets can get a second-round pick or two for him if they take on some money beyond this season.
Salary: $1.93MM
The Wolves have reportedly discussed an extension with Reid, with a maximum offer worth about $58MM over four years. I don't expect him to get that much as a free agent, but considering an extension hasn't been reached yet, obviously there's a gap between what the Wolves have offered and what Reid is seeking.
The Clippers, Nuggets and Nets have all reportedly expressed interest in the 23-year-old, who has shown some interesting flashes when given minutes. However, his addition to this list is more cursory than anything, because it's hard to envision the Wolves trading him unless they're absolutely certain he will walk in free agency.
Karl-Anthony Towns is still injured, so Reid still has a big pretty spot in the rotation. The Wolves would want to get a player who can contribute right away in return if they moved him.
That's complicated by the fact that the former undrafted free agent is earning less than $2MM this season – you can't find many rotation-ready players at that price. If Reid does get traded, it seems more likely that he would be part of a multiplayer trade that sends out – and brings back – more salary than his alone.