As the February 23 trade deadline nears, Hoops Rumors will be taking a closer look at several players we consider trade candidates, discussing their value, speculating on potential destinations, and explaining why they are – or should be – available. These players won't necessarily be dealt in advance of the deadline, but it won't be surprising if they are.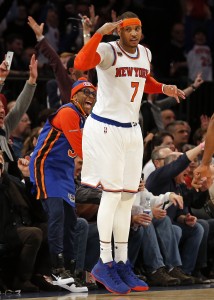 Carmelo Anthony, F
New York Knicks
2016/17 salary: $24,559,380
Under contract through the 2018/19 season, though his deal contains an ETO for the final year
Trade restrictions: No-Trade Clause
The Knicks surprisingly beat the Spurs last weekend in what could be Carmelo Anthony's final home game as a member of the team. New York doesn't have another game before the February 23 trade deadline and while the odds are against an Anthony trade, if he were to be moved, it wouldn't be the most shocking trade to happen this week.
How Did We Get Here?
It appears that team president Phil Jackson wants Anthony to play for another team, as evidenced by his disparagement of the 10-time All-Star. The Zen Master subtweeted the star and he allegedly had a hand in the article written by his close associate, Charley Rosen, which condemned Anthony. Rosen opined that Anthony's legs had similar principles to a homerun leaving Yankee Stadium and he concluded his subjective piece with this sentiment: The only sure thing is that Carmelo Anthony has outlived his usefulness in New York.
Anthony still has plenty left in the tank. At age 32, he's no longer the nimblest of athletes. When he drives at defenders, he powers into them at a controlled speed while always remaining a threat to stop and utilize his deadly jumpshot. He's not going to rival LeBron James' all-around game on a nightly basis, but he's still a top-30 player in the league and he's one of the best on the offensive end.
There's a recipe for constructing a winning Melo team, yet for the longest time, Jackson seemed disinterested in reading anyone else's cookbook. Anthony needs to be surrounded by shooters along with a defensive anchor in the post while playing in a free-flowing offense. For over half of his tenure with the Knicks, Jackson insisted on the triangle, an offense which has principles installed in sets around the league but it hasn't been successful as a standalone offense for quite some time. Kristaps Porzingis can develop into the team's defensive anchor, but Jackson's signing of Joakim Noah delays his development at the five. Additions Courtney Lee and Lance Thomas are good fits for the quintessential system, but Derrick Rose and Brandon Jennings are equally poor fits for it.
The mismatch of talent will likely lead New York to the lottery again this season. If this team was winning, the Jackson-Anthony estrangement might be blanketed, but that's not the case, as our Reverse Standings indicate.
Why Trading Anthony Is Problematic