Leading up to the February 9 trade deadline, we're keeping an eye on potential trade candidates from around the NBA. We're continuing today with a handful of former first-round picks who are still on their rookie scale contracts.
This list does not include players in the last year of their rookie contract, as those players could become restricted free agents in the offseason. We covered some of those players here.
---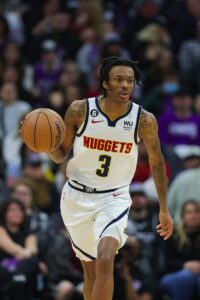 2022/23: $2.2MM
2023/24: $2.3MM
2024/25: $4.16MM team option
The No. 26 overall pick of the 2021 draft, Hyland is looking like perhaps the most likely player to be traded out of this group.
Hyland only makes a combined $4.5MM this season and next, with a $4.16MM club option for 2024/25. That's really cheap for a talented shooter (37.8% on threes, 86.6% on free throws) who has a fairly substantial role (19.5 MPG, 10.3 FGA) on the West's No. 1 seed.
On the other hand, he might be looking for more minutes, and has reportedly had "occasional clashes" with head coach Michael Malone. His decision-making and shot selection can be questionable, his net rating (-8.4) is kind of a disaster (Denver's bench units haven't been great), and some advanced stats say he's one of the worst defenders in the league.
Denver is said to be looking for a two-way wing and/or draft compensation for Hyland.
2022/23: $2.96MM
2023/24: $4.56MM
The No. 19 pick of the 2020 draft, Bey was productive right away for Detroit, earning a spot on the All-Rookie First Team by averaging 12.2 PPG and 4.5 RPG while shooting 38% on threes.
He had a tough start to his sophomore year, averaging 11.9 PPG, 5.8 RPG and 2.3 APG on .345/.296/.735 shooting through 26 games (31.7 MPG). However, he was solid the rest of the way, averaging 18.1 PPG, 5.2 RPG and 3.1 APG on .417/.364/.849 shooting over his remaining 56 contests (33.6 MPG).
Bey, who turns 24 in April, can be wildly inconsistent from game-to-game offensively. For example, last March he scored a career-high 51 points (on 17-of-27 shooting) against Orlando, but in the five games preceding that victory, he posted a .321/.235/.737 shooting line.
One of Bey's best attributes is that he has been quite durable, having played all 82 games in '21/22 and only missing six of a possible 206 games to this point in his career. The Knicks are reportedly among the teams that have shown interest in Bey, who is eligible for a rookie scale extension in the offseason.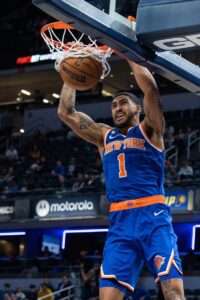 2022/23: $5.35MM
2023/24: $6.8MM
It's hard to know what to make of Toppin, who was the No. 8 pick of the 2020 draft. On one hand, he averaged 20.3 PPG, 7.0 RPG and 3.0 APG on .571/.436/.818 shooting in 10 games as a starter last year. On the other, those numbers were somewhat inflated because most of them came in early April, when many teams aren't exactly taking the games seriously.
Toppin is shooting – and making – more threes this season in an effort to expand his game, but it has come at the cost of his rim-running, which is a little strange (he shot 64.7% on twos over his first two seasons, but is only at 48.9% in '22/23). I'm not sure it's wise for him to be attempting more threes than twos, and it hasn't helped him get more playing time.
It's a tough spot for both the player and team, as Julius Randle has been a better all-around player and head coach Tom Thibodeau hasn't shown much interest in playing the two power forwards together. Toppin is a limited defensive player, but he tries.
Randle is under contract through at least '24/25, with a player option in '25/26. What's the pathway for Toppin to become a starter in New York going forward? Does that matter to him?
The Pacers reportedly showed interest in Toppin earlier this season, though it's unclear if they remain interested.
2022/23: $2.24MM
2023/24: $4.04MM
Pritchard, who just turned 25 over the weekend, was the No. 26 overall pick of the 2020 draft. The former Oregon standout is a career 39.8% three-point shooter who has seen his minutes reduced due to a backcourt logjam.
After averaging 19.2 minutes per game as a rookie in '20/21, he logged 14.1 MPG last season and is down to 12.5 MPG in '22/23. He has also been a healthy scratch several times this season.
The Celtics have the NBA's best record, and having a cheap insurance policy like Pritchard capable of filling in when called upon is a reflection of the team's depth. He has posted a positive net rating in each of his three seasons.
However, you could also make the case that his presence is more of a luxury than a necessity, with Jaylen Brown, Marcus Smart, Derrick White and Malcolm Brogdon all ahead of him in the backcourt pecking order. If the Celtics want to upgrade their depth at another position (center?), Pritchard could be used as part of a return package.
The Warriors are among the teams that have reportedly expressed interest in Pritchard. As was the case with Bey and Toppin, the 6'1″ guard will be extension-eligible in the summer.
---
Note: This list isn't meant to be comprehensive, just a brief overview. A number of other former first-rounders on their rookie scale deals could be traded ahead of next week's deadline, including Cam Thomas, Day'Ron Sharpe, James Wiseman, Moses Moody, Jaden Springer, James Bouknight, Kai Jones and Shaedon Sharpe, among others.
Some of the aforementioned young players haven't been involved in rumors to this point, but are worth keeping an eye on due to their roles and/or team situations. For example, in Sharpe's case, the Blazers are reportedly a buyer, but their ability to trade a first-round pick is limited due to protections from a previous deal, making the 19-year-old a logical trade chip.