Over the course of the 2018/19 NBA season, up until February's trade deadline, we're keeping an eye on potential trade candidates from around the NBA, monitoring their value and exploring the likelihood that they'll be moved. Each of these looks at possible trade candidates focuses on a specific division, as we zero in on three players from that division.
The Timberwolves, Trail Blazers, and Jazz are wild cards, but the Northwest could end up being one of the least active divisions at the trade deadline this season. While the division-leading Nuggets and Thunder hold large trade exceptions and could use reinforcements as they continue their postseason push, they probably lack the financial flexibility and movable assets to do anything too drastic.
Here's our latest look at a few possible trade candidates from the Northwest…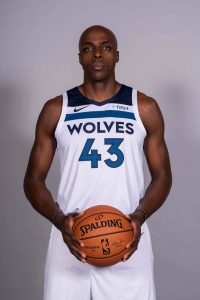 Anthony Tolliver, F
Minnesota Timberwolves
$5.75MM cap hit; unrestricted free agent in 2019

After falling out of the rotation earlier this season, Tolliver has once again been a regular since Robert Covington went down at the start of January. Still, Tolliver's 15.3 minutes per game are the fewest he has played since his rookie year, and most of his other numbers are below his career rates too. It's also not clear whether he'll continue to see consistent minutes when Covington returns.
I don't imagine Tolliver plays a major role in Minnesota's long-term outlook, and he's not necessarily doing a lot to help the Wolves in the short term — the team has a -5.8 net rating when he plays and a +1.5 rating when he sits. Even if the Wolves want to remain in the playoff hunt on February 7, it might still make sense to send Tolliver, who has an affordable expiring contract, to a team more in need of a player with his skill set.
A stretch four, Tolliver continues to hit three-pointers at a rate (37.9%) that's in line with his career percentage (37.6%). That could be valuable to a team seeking more shooting from its frontcourt, such as Oklahoma City or Philadelphia.
Maurice Harkless, F
Portland Trail Blazers
$10.84MM cap hit; $11.51MM guaranteed salary for 2019/20; UFA in 2020

Harkless has shown he can be an effective complementary contributor on the wing when he's healthy, having shot 50.1% from the floor and 37.5% on three-pointers during the two seasons prior to 2018/19. Knee problems have slowed him down over the last year, however, resulting in multiple stints on the shelf so far in '18/19.
With Portland in need of a big-bodied wing who can be trusted to stay on the court down the stretch and in the postseason, the club should consider dangling Harkless as a trade chip. A trade partner looking ahead to next season could better afford to play it safe with Harkless, making sure he's fully healthy for 2019/20 — especially if the Trail Blazers were willing to attach another asset in the deal.
A swap like Terrence Ross for Harkless and a draft pick makes some sense to me, though Orlando may be reluctant to pull the trigger on any trades that weaken this season's roster, and the Blazers may want to target a player more capable of guarding bigger bodies.
Timothe Luwawu-Cabarrot, G/F
Oklahoma City Thunder
$1.54MM cap hit; UFA in 2019

The Thunder currently have an open spot on their 15-man roster. In fact, that spot has been open all season, by design. With the NBA's most expensive roster, Oklahoma City won't add another salary to its books and increase its projected tax bill unless the team badly needs reinforcements.
Rather than filling that 15th spot, the Thunder might actually look to reduce their roster count prior to the February 7 deadline. Trading Luwawu-Cabarrot and his $1.54MM cap hit in a money-saving deal similar to the ones Houston has made with Chicago would make some sense for OKC, since TLC doesn't have a role for the team (he has played 11 total minutes since the start of December) and will be an unrestricted free agent at season's end.
The Thunder aren't allowed to stay at 13 players all season, but with Luwawu-Cabarrot off the books, they could carry 13 players for up to two weeks at a time, and could potentially address the 14th spot using 10-day contracts or a rest-of-season deal for a veteran on the buyout market. Taking that route would save Oklahoma City a little money and would potentially allow the club to add a player that has a better chance of contributing in the postseason.
Previously:
Photo courtesy of USA Today Sports Images.