The Clippers and Doc Rivers have reached an agreement on a deal that will extend the head coach's contract, the team announced today in a press release. Terms of the agreement aren't yet known, but Rivers' contract with the Clips had originally been set to expire at the end of the 2018/19 season.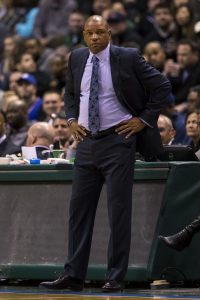 "Doc is one of the top coaches in the NBA, coming off one of his finest seasons since joining the Clippers," owner Steve Ballmer said in a statement. "We trust Doc to lead a competitive, tough, hard-working team while upholding a culture of accountability expected to resonate throughout the organization."
Rivers, who joined the Clippers in 2013, led the team to four consecutive seasons of 51 or more wins before the roster underwent major changes in the summer of 2017. The Clips traded Chris Paul to Houston last summer, then sent Blake Griffin to Detroit prior to this season's trade deadline, leading to speculation that Rivers may follow his star players out of Los Angeles. However, today's announcement confirms that won't be the case.
Despite losing his longtime stars, Rivers still managed to lead the Clippers to a 42-40 record in 2017/18, keeping the team within striking distance of a playoff spot until the final week of the regular season. He now has a 259-151 (.632) record in five years with the franchise, though the club has failed to make a deep playoff run during that stretch, having been eliminated twice in the first round and twice in the second.
Armed with two lottery picks in this month's draft and more cap flexibility than they would have had with Griffin's maximum-salary contract on their books, the Clippers will be looking to retool their roster this offseason and return to the playoffs next spring.
"I am proud of the success we have had here over the last five seasons, but there is more work to be done," Rivers said in a statement today. "We are coming off a year where our team battled through many challenges and much adversity, proving deep talent and even greater potential. I am looking forward to getting back to work on the court to develop our players and compete with the NBA's elite."
Bill Plaschke of The Los Angeles Times first reported earlier this month than an extension agreement between the Clippers and Rivers was in the works.
Photo courtesy of USA Today Sports Images.