Former Jazz coach Jerry Sloan has passed away due to complications from Parkinson's disease and Lewy body dementia, the team announced today in a press release. Sloan was 78 years old.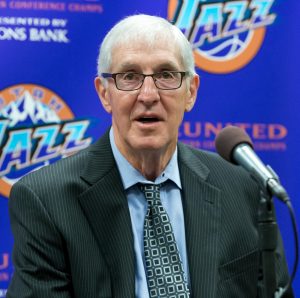 "Jerry Sloan will always be synonymous with the Utah Jazz," the club said in a statement. "He will forever be a part of the Utah Jazz organization and we join his family, friends and fans in mourning his loss. We are so thankful for what he accomplished here in Utah and the decades of dedication, loyalty and tenacity he brought to our franchise."
After a two-and-a-half-year stint coaching the Bulls from 1979-82, Sloan took over as Utah's head coach during the 1988/89 season. He remained in that role for 23 years, compiling a 1,127-682 (.623) regular season record with the franchise during that time. He also won 96 postseason contests with the Jazz, leading the club to two NBA Finals appearances against Michael Jordan's Bulls in 1997 and 1998.
Sloan's 1,221 wins as an NBA head coach place him fourth in league history, behind only Don Nelson, Lenny Wilkens, and Gregg Popovich. He was inducted into the Basketball Hall of Fame in 2009.
Prior to becoming an NBA coach, Sloan was a standout player, having been drafted fourth overall by the Baltimore Bullets in 1965. He spent most of his playing career in Chicago, earning a pair of All-Star berths and six All-Defensive nods for the Bulls.
We at Hoops Rumors send our condolences to Sloan's family and friends.
Photo courtesy of USA Today Sports Images.