The Warriors may be on the precipice of breaking new luxury tax records but that seems like a suitable trade off for their run as one of the most dominant franchises in NBA history.
Sure, they'll inevitably need to finesse things with their four core superstars but that doesn't mean the club can't still make a handful of responsible moves in the summer of 2018 to make their lives slightly simpler when push comes to shove.
The Warriors issued a pile of short-term deals last summer and may be in position to do so again. At the end of the day, retaining flexibility and not overpaying for players that aren't business critical will be their top priorities.
Omri Casspi, SF, 30 (Up) – Signed to a one-year, $2.1MM deal in 2017
Casspi has bounced around the NBA over the course of the past nine seasons, occasionally showing glimpses of solid value as a rotation player but his role with the Warriors may be his most relevant yet. While Casspi's 16.1 minutes per game are the second least of his career (he played sparingly for the Cavs in 2012/13), he's shown that he's a competent bit character in Golden State's title defense and the organization should look to retain that. Casspi can plug into the Warriors rotation when needed, as evidenced by the 8.4 points and 5.3 rebounds per game he averaged in 14 December games, but his modest resume doesn't demand consistent time or big-time money. It seems like both parties would benefit from his return on another cheap deal but don't rule out other contending hopefuls trying to poach him away.
Kevin Durant, PF, 29 (Up) – Signed to a two-year, $53MM deal in 2017
After taking a discount so that the Warriors could retain players like Andre Iguodala and Shaun Livingston, Durant will have the chance to turn down his player option and go after a bigger contract now that the team's other core pieces are in place. Durant is on a short list of players with enough clout to bounce from short-term deal to short-term deal, retaining future flexibility and keeping general managers on their toes but he could also ink a four-year max pact and go about his business. While Durant strikes me as the type of personality that may prefer the latter, he could potentially opt for the former if for no other reason than to give the organization options as they gear up for their forthcoming years-long battle with the repeater tax.
Kevon Looney, C, 22 (Down) – Signed to a three-year, $3.8MM deal in 2015
The Warriors made the decision to turn down the fourth-year of Looney's rookie contract because at that point he hadn't been able to show much value over the course of two injury plagued seasons. Looney has had a bit more of a chance to showcase his skills in 2017/18 but not enough to warrant major free agency interest. The Dubs may be able to bring Looney back on a minimum deal next season if they like the intangibles that he brings outside of game days but there's no obvious case for it aside from the fact that they'll need bodies and they know what he brings to the table.
Patrick McCaw, SG, 22 (Down) – Signed to a two-year, $1.9MM deal in 2016
The Warriors seem receptive to developing McCaw into a potentially reliable rotation player, as evidenced by their decision to start him six times already this season. To this point in the season, however, he hasn't exactly flourished when given the opportunity. McCaw's situation is much like Looney's. He'll be a cheap option that they've worked with in-house. Given the financial restraints that the front office will be dealing with due to the rest of the roster, they may be happy to retain a 22-year-old that they can at least potentially groom into a reliable rotation player.
JaVale McGee, C, 30 (Down) – Signed to a one-year, $2.1MM deal in 2017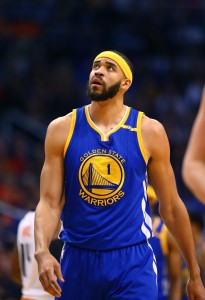 McGee put forth his most notable season in years when he debuted with the Warriors in 2016/17 but hasn't replicated that success in 2017/18. Due to matchup issues in the small ball era and the emergence of rookie Jordan Bell, the team just doesn't need McGee's energy and length as much as it did in his first year with the team. Considering that the big man isn't getting any younger, it's hard to imagine him landing much on the market if all he could manage to yield after last year's solid campaign was another one-year, minimum contract.
Zaza Pachulia, C, 34 (Down) – Signed to a one-year, $3.5MM deal in 2017
The Warriors have started Pachulia in all 109 of the games that he's suited up in over the course of his two years with the franchise but this year his time on the court has dropped to its lowest point since 2009/10. Could that be an indication that the club is open to moving on in 2018? The Dubs gave Pachulia, a dinosaur in today's game, more money than they needed to last summer but now that finances are even tighter, they may not be so generous. Expect Pachulia in a reserve role for the veteran's minimum, if he's even back in the Bay Area at all.
David West, C, 37 (Up) – Signed to a one-year, $2.3MM deal in 2017
West has been an extremely productive role player for the Warriors off the bench in 2017/18, exactly what basketball fans outside of northern California feared when the former All-Star decided to crawl onto the Dubs' bandwagon in 2016. West has had old-man game since he broke into the league, so regression isn't exactly an issue. Expect him back playing meaningful minutes with Golden State until he decides to retire.
Nick Young, SG, 33 (Down) – Signed to a one-year, $5.2MM deal in 2017
Young is a potent three-point shooter that slots in well with the rest of Golden State's rotation but does he provide enough to justify what his $5M+ contract will amount to when the luxury tax bill is calculated? The Warriors may gauge Young's receptiveness to returning on a cheaper deal in 2018/19. If he isn't interested, expect him to pound the pavement and eventually land somewhere as a hired gun on a short-term deal. If logic prevails, he'll be a valuable depth piece with the Warriors for years to come… but that might be a big if.
Photo courtesy of USA Today Sports Images.