Kevin Knox will return to the Trail Blazers on a one-year contract, tweets Shams Charania of The Athletic. It's likely a minimum-salary deal, and there are no details yet on whether it includes any guaranteed money.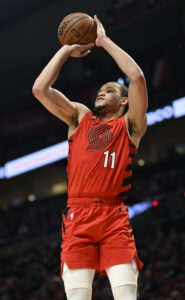 The 24-year-old forward became an unrestricted free agent after Portland declined to pick up his $3MM option for the upcoming season. With the start of training camp about three weeks away and most teams close to having complete rosters, he decided to join the Blazers for another year.
Knox began last season with the Pistons, but was sent to Portland in a four-team deal at the trade deadline. He appeared in 21 games with the Blazers, averaging 8.5 points and 3.3 rebounds in 17.1 minutes per night.
Knox was a lottery selection in 2018, going to the Knicks with the eighth pick in the draft. He spent more than three seasons in New York, but was never able to establish himself as a rotation player and was traded to the Hawks in 2022.
Knox will have one more season to try to build his value before re-entering free agency next summer.
Once the Knox signing and their other reported deals are official, the Blazers will have 19 players under contract, two short of the offseason minimum. Portland currently has 12 players with fully guaranteed deals, Moses Brown with a partial guarantee, and a pair of two-way players. They've reportedly reached Exhibit 10 agreements with three other free agents.