This is the 10th entry in our series breaking down the significant trades of the 2022/23 season. As opposed to giving out grades, this series explores why the teams were motivated to make the moves. Let's dive into the most controversial trade of the deadline, a four-team deal between the Pistons, Warriors, Trail Blazers and Hawks.
---
Trade details
On February 9:
The Hawks acquired Saddiq Bey.
The Pistons acquired James Wiseman.
The Warriors acquired Gary Payton II, the Hawks' 2026 second-round pick, and the Hawks' 2028 second-round pick.
The Trail Blazers acquired Kevin Knox, either the Hawks' or Nets' 2023 second-round pick (whichever is most favorable; from Hawks), the Hawks' 2024 second-round pick, the Hawks' 2025 second-round pick (protected 41-60), the Grizzlies' 2026 second-round pick (top-42 protected; from Warriors), and the Warriors' 2028 second-round pick.
Notes: The Hawks previously traded their 2024 second-round pick to the Trail Blazers with top-55 protection. Those protections were removed as part of this deal. This trade technically wasn't finalized until February 12, which we'll cover below.
The Pistons' perspective:
Wiseman was reportedly atop Detroit's draft board in 2020, when he was selected No. 2 overall by Golden State. The Pistons wouldn't have traded for him if they didn't believe in his talent and potential.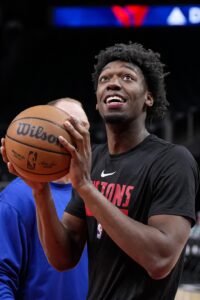 Interestingly, Wiseman is the second former No. 2 overall pick that general manager Troy Weaver has traded for in the past two years, joining Marvin Bagley III. They have several similarities, including being left-handed big men who have struggled with inconsistency and injuries since entering the NBA.
Wiseman was something of a mystery prospect, as he only played three college games at Memphis before being ruled ineligible. Due to the coronavirus pandemic and the truncated offseason, he didn't have a full training camp entering his rookie season, which certainly wasn't ideal for a player who already was lacking in high-level experience.
He showed some flashes of upside in 2020/21, averaging 11.5 PPG, 5.8 RPG and 0.9 BPG while shooting 51.9% from the floor and 62.8% from the free throw line in 39 games (27 starts, 21.4 MPG). He also shot 31.6% from three-point range on one attempt per night.
Unfortunately, he sustained a torn meniscus in his right knee that required surgery in April 2021. Wiseman had a lengthy recovery process, which included multiple setbacks and a second surgery – an arthroscopic procedure – in December 2021. He ultimately missed the entire '21/22 season.
Prior to the trade, Wiseman had appeared in just 60 NBA contests. In 21 games (12.5 MPG) this season with the Warriors, he averaged 6.9 PPG and 3.5 RPG while shooting 62.8% from the field and 68.4% from the line.
Wiseman, who turns 22 at the end of the month, needed more reps. Weaver said as much after the trade. There's a lot of pressure on top draft picks like Wiseman, but he's still early in the learning process, as head coach Dwane Casey noted earlier this month. It's not something that can be rushed.
The Warriors didn't have time to be patient with Wiseman. They won the title without him contributing last season, and he was struggling when he played for them in '22/23. The Pistons are in the midst of a rebuild and can afford to be patient, at least in the short term.
At 7'0″ and 240 pounds with a 7'6″ wingspan, Wiseman has an inherent edge in two areas that can't be taught: size and length. Those factors, combined with his plus leaping ability, make him a natural lob threat, and he has posted above average rebounding numbers with Detroit. He also has long strides and runs the floor well for a center.
Through 15 games (13 starts, 26.3 MPG) with Detroit, Wiseman is averaging 13.3 PPG, 9.0 RPG and 0.9 BPG while shooting 55.1% from the field and 68.8% from the line. He's just 3-of-14 from deep.
It was a risky trade, to be sure. Bey had been a solid contributor for the Pistons and rarely missed games. But they're in a position where they need to acquire star-level talent if they want to be competitive in the future, and they think Wiseman has the upside to reach that level.
The fit is a bit clunky and will be interesting to monitor going forward. The Pistons seem intent on running a two-big lineup, as they also have Isaiah Stewart (likely out for the season with a shoulder injury) and Jalen Duren, a couple of recent first-round picks. Wiseman, Bagley, Stewart and Duren will all have to improve in multiple areas for it to work.
That frontcourt will be even more crowded if Detroit wins the lottery again and drafts Victor Wembanyama. Still, that would be a good problem to have and would be one the team can figure out later if it happens.
Wiseman will be eligible for a rookie scale extension in the offseason. Given how rough around the edges he is, I would think the Pistons will wait on that decision until after '23/24, when he could be a restricted free agent if Detroit gives him a qualifying offer.
Ultimately, this trade was a home run swing on Wiseman's talent. The Pistons had a long look at Bey, but they think Wiseman can be a real difference-maker while viewing Bey as having relatively less upside.
The Warriors' perspective:
Did Golden State sell low on Wiseman? I don't think so. Just because he was a top pick a few years ago doesn't mean he's still valued as such – if he was, the Warriors would have received more in return.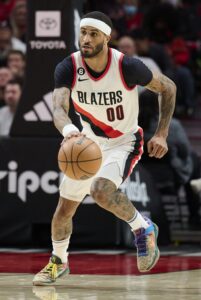 Golden State's motion offense requires bigs who can set solid (sometimes illegal) screens and make quick decisions with the ball. Neither of those things are strengths of Wiseman's at the moment.
The Warriors initially tried to cater to Wiseman as a rookie by clearing out the side and giving him isolation post-up touches. That's never been their style though, and it totally disrupted the flow of their offense (he also was largely ineffective in those situations, often struggling with getting pushed off his spot, which is something he's still working on).
After he returned from injury this season, they were using him the same way they've used their other centers over the years. He just wasn't playing well.
Even more troubling than the poor offensive fit was how much he struggled defensively. Wiseman runs the floor well in the open court, but he doesn't have good body control in tight spaces, especially when backpedaling.
Opponents are shooting 70.3% at the rim against Wiseman, which is the worst mark in the league among centers who contest at least four rim attempts per game, according to NBA.com's data. DunksAndThrees.com's defensive estimated plus-minus ranks him as the third-worst defender in the NBA. It's really tough to have the backbone of your defense be that much of a negative.
It's a small sample size (only 262 minutes), but Wiseman's net rating with the Warriors in '22/23 was minus-19.3, with the equivalent of the worst offense and defense in the league (he's at minus-11.1 with the Pistons). Golden State was plus-2.3 in 2,403 minutes with him off the court.
It just wasn't working for either side. Wiseman looked confused and was visibly losing confidence, and the Warriors had a healthy player making $9.6MM this season who was detrimental to the team's success when he played.
Payton, meanwhile, was an excellent fit with the Warriors, helping them win their fourth title in eight seasons in '21/22. A tremendous athlete, the 6'3″ Payton fit well as a pseudo-big man offensively, recording 55 dunks out of 212 made field goals last season, a remarkably high percentage for a guard.
The 30-year-old had a great understanding of the team's schemes on both ends, with many of those dunks coming off scripted plays on slipped screens. When healthy, he is a top-tier defensive player often tasked with guarding the opposing team's best perimeter player.
The problem was, according to the Warriors' doctors and Payton himself, he wasn't healthy. He failed his physical, which held up this four-team deal for three days after the deadline, at which point Golden State ultimately decided to go through with it. He had just started against the Warriors night before the trade, so there's no way they could've known he was going to be sidelined as long as he has.
Payton only played 15 games with the Trail Blazers after signing a three-year contract with them last summer. He was slow to recover from abdominal surgery, which is the same injury that was flagged on his physical. Owner Joe Lacob said Portland was "disingenuous" and broke an "honor code" by not disclosing the extent of Payton's injury.
This is an unfortunate example of why it's risky to make a deal at the last minute just before the deadline. If it had been made a few days earlier, the Warriors could have asked to amend the terms of the trade, but they didn't have that option once the deadline passed.
It's true the Warriors could have re-signed Payton in the offseason without giving anything up. But due to the way the repeater tax works, his $8.3MM contract would have added about $60MM to their already record-breaking luxury tax bill — an exorbitant amount for a role player.
This trade saved them money both this season and next, as Wiseman is scheduled to make $12.12MM next season in the final year of his rookie deal, while Payton will earn $8.72MM in '23/24.
Hopefully Payton is able to return and contribute to close the season, as he has been sidelined since the Warriors approved the deal. He's an exciting player to watch and played a key role in last season's title run.
The Trail Blazers' perspective:
Was it a red flag that Portland was willing to trade Payton so soon after signing him? The Blazers need defensive help and he is one of the best perimeter defenders in the league when active.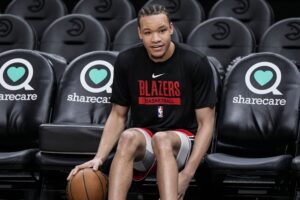 Still, I highly doubt there was anything nefarious going on. Differences of opinion happen all the time when it comes to medical issues, which is why players often seek out multiple doctors before undergoing surgery.
If it turns out the Blazers intentionally withheld information about Payton's injury, then it would rightfully impact their reputation around the league and they might lose a second-round pick. I don't see why they would risk that just to add a handful of second-rounders and move off Payton's salary.
The Blazers created an $8.3MM traded player exception as part of the deal, which is what Payton makes this season. They will have until next February to use it.
Portland also added Knox, who makes $3MM this season. The former lottery pick is now on his fourth team in 14 months. His $3MM team option for next season is reasonable enough if the Blazers want to bring him back, but he's only played 55 minutes in 10 games thus far with Portland.
The Hawks' perspective:
This trade could be viewed in three parts for the Hawks. First, they sent out five second-rounders to acquire Bey (and Knox, who was then flipped to Portland).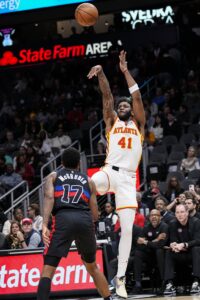 Second, they created about $3MM in salary cap relief by making a four-player trade with Houston at the deadline, dealing away two second-rounders (via the Thunder) in the process. That allowed them to take on Bey's salary while remaining under the luxury tax line.
Finally, they were able to absorb Bey's $2.96MM contract with a trade exception they generated last summer when they moved Kevin Huerter to Sacramento.
If you want to look at it in total, they basically shuffled around some end-of-bench players and dealt away seven second-rounders to add Bey, a third-year forward.
You could certainly make the case that Bey was the best player involved in this deal at the time it was made, even if he isn't a household name. He appeared in 204 of a possible 210 games with Detroit (30.0 MPG), averaging 14.5 PPG, 4.9 RPG, 2.0 APG and 0.9 SPG on .400/.357/.843 shooting in two-plus seasons.
From watching him play with the Pistons, I always felt that Bey could really shoot, but he was forced to take difficult shots because they had a team full of young players trying to figure things out, and he was one of the only real threats from deep. I think that experience will make him better in the long run because it helped him develop his off-the-bounce game, and he's a solid passer who very rarely turns it over. He's below average on defense, but not a liability or anything.
Frankly, I'm not sure why the Warriors didn't just take Bey in this deal. He may not have been familiar with the system, and he certainly isn't nearly the defensive player that Payton is, but I thought they could use another forward instead of another guard, and he seemed like a good fit. He's also much cheaper than Payton, earning $4.56MM next season in the final year of his rookie contract.
Either way, obviously the Hawks wanted him. Through 15 games (25.1 MPG) in a reduced role with Atlanta, Bey is averaging 10.4 PPG and 4.3 RPG on a strong .466/.456/.789 shooting line.
As with Wiseman, Bey was a first-round pick in 2020 (No. 19 overall) so he will be eligible for a rookie scale extension this summer. The former Villanova product will turn 24 years old on the last day of the regular season (April 9).