Former Pacers and Grizzlies camp invitee Jarrid Famous has traveled the globe in his quest to play professional basketball at the highest level. After going everywhere from Lebanon to the Dominican Republic, the four-year pro has a passport that would make Carmen Sandiego jealous.
"I'm a huge anime fan so I loved playing in Japan and getting to know their culture there," the 6'11" center said. "My favorite place though was probably the Philippines. They love their basketball there and you get to play in front of 20,000 screaming fans every night. Plus they have TGI Fridays, Outback Steakhouse, and Olive Garden there, so those things made me feel pretty much at home."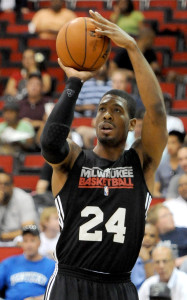 This year, after returning from China, Famous had an opportunity to play in another exotic location at a healthy rate of $30K per month, but no amount of money or bloomin' onions could have swayed him. He shunned that opportunity and remained in the States to play in the D-League so that he could audition himself for NBA teams and get ready for training camp this coming fall, wherever that may be. Famous values his experiences around the globe, but he felt that he wasn't getting the kind of in-game experience he needed playing internationally.
"I feel I belong in the NBA. I could have done the international thing all over again this year but I chose instead to stay here and train and do the things I need to improve in advance of training camp. Going overseas, I felt like I didn't have the right people there pushing me. In years past, I would just go overseas and then jump right into camp or summer league. Now, I'm here, I'm preparing for camp at home and I already know that I'm going to be very well prepared for it all," the Hazan Sports Management client explained.
So far, Famous' plan of staying in the U.S. seems to be paying off quite well.  After initially signing with a Chinese team, Famous started the 2014/15 season with the Iowa Energy, who later facilitated his request for a trade to the Texas Legends, a team that had a greater utility for his rebounding. All in all, Famous averaged 16.0 points and an eye-popping 14.9 rebounds per contest. On offense, he filled out the stat sheet while remaining an efficient scorer, knocking down 56.5% of his shots from the floor. For his quality effort in Iowa and Texas, Famous earned a runner-up nod for the title of Most Improved Player in the D-League from Ridiculous Upside.
We're still weeks away from the meat of the offseason, but agent Daniel Hazan says that Famous already has an offer to play in minicamp. Famous' last training camp experience is one that he'd probably like to forget. The Grizzlies were gung-ho about him in 2012, a year in which he played in the summer league for both the Pacers and the Bucks, but things were put on hold when Famous separated his left shoulder while dunking.  Three years later, Famous is 100% healthy and he says he's more ready than ever for the stiff competition he'd face in an NBA team's camp.
Now, the well-traveled 26-year-old is making his home base at his one-time school, Westchester Community College in New York. With the help of a trainer, Famous says he's in the best shape of his life. He also says he's rock-solid mentally and readily credits his years of world travel for his advanced maturity.
"It's a great experience," Famous said of playing internationally. "It forced me to get out of my comfort zone and grow as a person. Going everywhere and seeing how other people live, it helped me appreciate the things that I have. Going to different places and how they do things helped me to grow as a person, and I took bits and pieces from every place that I went. It helped me grow."
Famous contends that he's a more well-rounded person, both on the court and off, thanks to his globetrotting. Years ago in college, at South Florida, Famous had a sometimes singular focus on scoring in bunches as he worked toward his NBA dream.  Now, he understands what he does best on the floor and what he needs to do to help his team win.  Often, that means putting up points, but it also means doing the little things, hustling, and playing tough D. Famous happily does it all and hopes to do it on the NBA stage next season.
Photo courtesy of USA Today Sports Images.