Throughout the spring and summer, Hoops Rumors will be talking with some of the most intriguing prospects in the 2015 NBA Draft. Today, the Hoops Rumors Draft Prospect Q&A series continues with Notre Dame guard Jerian Grant, whom Jonathan Givony of DraftExpress ranks No. 14 in this year's class and Chad Ford of ESPN.com rates 17th.
A team in need of a playmaking point guard would do very well to wind up with Notre Dame's Jerian Grant.  Blessed with tremendous size for the position, the 6'5″ athlete is a tremendous passer with exceptional ball handling skills.  Grant also offers a level of maturity that the younger guards in this year's class might not possess right out of the gate.  Through five years with the Fighting Irish, Grant has developed on and off the court, blossoming into a high-upside NBA prospect.  Last week, Grant took time out of his busy schedule to chat with Hoops Rumors about his strengths, where he might wind up getting drafted, and much more.
Zach Links: Your older brother, 76ers forward Jerami Grant, went through the draft process last year. What kind of advice has he given you?
Jerian Grant: Just do what you do.  Don't go out there trying to do things that you're not supposed to be doing.  They already know that you can play the game.  Just go out there and reinforce what you do best.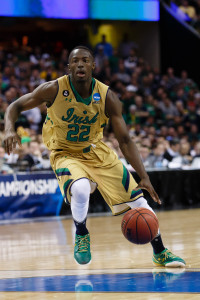 ZL: What would it mean for you to play alongside him at the next level?
JG: It'd be great. We got to play together a bit when we were younger.  Both of our games have developed so much, so I think that we can be a dynamic duo together.
ZL: What teams have you worked out for so far?
JG: Just the Pacers on Monday [May 18th].
ZL: What team workouts do you have coming up?
JG: I have one scheduled with the Hornets on June 8th but that's it for now.
ZL: You've been on the NBA radar for some time now and it seems like you could have gone pro earlier if you wanted to. Why was it important for you to stay in school and graduate?
JG: A few things, one is that I wanted to graduate.  Also, I wanted to come back and take on more of a leadership role and I did that too.  In the previous years I was at Notre Dame, I felt like I was one of the better players on the team but maybe not the No. 1 leader.  As a point guard that's a role you want to fill and I'm glad I got to do that last season.
ZL: You took a seismic leap forward in your senior year.  What do you attribute that to?
JG: I think stepping into a leadership role really helped make me a more rounded player.  I practiced even harder than before, I worked even harder than before, and I was more vocal.
ZL: Thanks to redshirting in your freshman year, you spent five total years in school. Do you think that allowed you to gain some additional maturity on and off the court as you look ahead to the NBA?
JG: Absolutely. i've been through a lot over those five years, I'm definitely seasoned.  Now I know that I can go into the NBA and help right away.  It's not gonna take two or three years for me to acclimate myself.
ZL: You had a ton of memorable moments at Notre Dame, including leading your team to an Elite Eight appearance this past season. If you had to pick your favorite game or one highlight from your career at Notre Dame, what would it be?
JG: I think just winning the ACC championship.  We went down there to Carolina and to beat Duke and Carolina to win the ACC championship – the first conference championship for our school – it meant so much.
ZL: At 6'5″, what kind of things can you do on the court that smaller point guards typically can't?
JG: I think my vision is definitely helped by my height.  I can see over defenses and make better passes on certain players.  Smaller guys can't do it because they don't have the length.  My vision and my playmaking ability at 6'5″ is that much better because of my height.
ZL: What's the ideal kind of offense for you to thrive in at the NBA level?
JG: It's tough to say.  I definitely like to get up and down the court, I make a lot of plays there.  But, I think my strong suit is in the ball stance in the half court.
ZL: What specific areas of your game do you feel like you want to improve on most?
JG: Being able to knock down shots consistently, that'll go a long way for me.  Being able to spot up and nail those shots. I also want to develop different types of one-on-one moves.  I used the step back a lot in college, but I want to have a wider variety of ways to attack the defense.
ZL: Where have you been working out since the end of the season?
JG: I'm back home in Maryland, working with my old teammate Victor Oladipo and my brother Jerami.  It's real competitive.
ZL: What led you to choose IAM Sports to represent you?
JG: Victor is my best friend and he uses the same agency.  I met with them and felt like it was the right place for me.  I asked about them, Victor told me all about them and he only had positive things to say.  There are only like seven players in the agency, so it has a family feel and they give every client a ton of attention.
ZL: Do you have an idea as to where you'll be drafted? What's your floor and what's your ceiling?
JG: My agent and I have been hearing anywhere from No. 8 to No. 20, anywhere around that range.  They don't see me going past No. 22 and they say the ceiling is around No. 8 or 9.  It's a wide range right now.
Photo courtesy of USA Today Sports Images.