Hoops Rumors is looking ahead to offseason moves for all 30 teams. We'll examine free agency, the draft, trades and other key storylines for each franchise as the summer approaches.
State Of The Franchise
Forgive the Cavaliers and their fans if they're not quite ready for the offseason to get underway quite yet. It has been four days since Cleveland won its first major sports championship in more than 50 years, and Cavs fans probably aren't prepared to end the party quite yet. Given the quick turnaround between Game 7 of the NBA Finals and the 2016 draft, however, it's time for the franchise to start looking ahead to 2016/17 and re-evaluating its roster.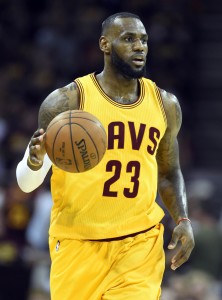 What A Difference A Game Makes
Perhaps it's more accurate to call this section "What A Difference Three Games Make," since heading into Game 5, speculation surrounding the Cavaliers' offseason centered around the team retooling the roster around LeBron James. Kevin Love was the most obvious bad fit on the roster, but he likely wouldn't have been the only player shopped this summer if the Cavs had gone down quietly in the Finals.
Instead, Cleveland completed a comeback for the record books, storming back to win the next three games against the Warriors, and now the idea of blowing up the roster around LeBron doesn't look quite so necessary.
Will the Cavaliers still consider moving Love? Probably. Despite the team's championship victory, and Love's contributions to that title, he was never a perfect fit with LeBron and Kyrie Irving, and it could make sense for Cleveland to move him if it helps the club add some help on the wing, a shooter, and/or a little spending flexibility.
Still, winning the championship means the Cavaliers are playing with house money in 2016/17. The team doesn't have to move Love, and likely won't be aggressive about trying to find deals that shake up the roster. There's no harm in listening, since there's still room for improvement, but the Cavs won't be under nearly as much pressure to sell Love – or anyone else – for 50 cents on the dollar.
Trade Possibilities
What sort of offers would make Cleveland listen on Love? I've always viewed the Celtics as the best match, and a hypothetical trade sending Love to Boston has been the subject of plenty of speculation. The C's have a ton of draft picks at their disposal, and veteran players like Avery Bradley and Jae Crowder could be appealing to Cleveland.
The Rockets could also make sense as a potential trade partner. If Dwight Howard doesn't return to Houston, GM Daryl Morey will be on the lookout for a second star to pair with James Harden. The Rockets don't have a first-round pick to offer this year, but have been gauging trade interest in players like Patrick Beverley, K.J. McDaniels and Trevor Ariza, all of whom would make some amount of sense for the Cavs.
Outside of Love, there are some other potential trade candidates on the roster. Tristan Thompson, Iman Shumpert, and Channing Frye don't necessarily need to be moved, but they wouldn't be untouchable either. Irving, on the other hand, has probably cemented his spot on the roster after his performance in the Finals.
The Cavaliers also have several trade exceptions that could be used to accommodate incoming players without sending out any salary, including one worth nearly $10MM that doesn't expire until next February. The Cavs' cap situation may prevent them from taking on too much salary without getting rid of some, but the team certainly has plenty of options when it comes to making roster adjustments.
LeBron: Not Going Anywhere

While LeBron's contract features a player option for 2016/17, and he's expected to decline that option, there has never been much real suspense about whether or not he'll leave Cleveland this summer. There has been a tacit understanding that his contract is structured in a way that will allow him to re-up for more money as the cap increases and the CBA gets renegotiated. James confirmed as much prior to the club's victory parade on Wednesday.
"I love it here. I love being here. I love my teammates," James told Joe Vardon of Cleveland.com. "Obviously my agent will take care of all the logistical things but, I'm happy. I've got no plans to go nowhere at this point."
Those "logistical things" LeBron alludes to are somewhat complicated, since the Cavaliers only have Early Bird rights on their superstar, and don't have any cap room. That could prevent LeBron from signing a maximum-salary contract this offseason, but he'll be in line for a raise on his player option, and can get the max a year from now, as Bobby Marks of The Vertical explained in his breakdown of the situation.
Free Agent Outlook
Assuming James opts out of his contract and signs a new deal, his salary figures to increase to at least $27.5MM, which would put the Cavaliers' total guaranteed salary commitments over $102MM for the 2016/17 season. Even with a projected $94MM cap and $113MM tax threshold, that's a lot of money for eight players.
That $102MM+ figure doesn't take into account J.R. Smith, who turned down his player option and will hit the open market in line for a raise. It also doesn't include Matthew Dellavedova, who is eligible for restricted free agency, or Timofey Mozgov, an unrestricted free agent.
Replacing a couple of those veterans with young prospects would be one option to save a little money, but the Cavaliers have traded away both of their 2016 draft picks. As such, filling out the bench probably won't be cheap, and with the cap on the rise, the mini mid-level exception and minimum-salary exception may not attract the caliber of player they once did.
With their flexibility somewhat limited, the Cavs may either have to rely on signing their own free agents or counting on an outside veteran to take a discount to join a championship contender, like David West did last year with the Spurs. If they can't find free agents willing to do that, the trade market could be the Cavs' most logical route for an upgrade.
Final Take
The Cavaliers' NBA Finals win took away much of the urgency from their offseason. The roster, as constructed, is still a favorite to win the East, so there's no pressure on the franchise to make major changes this summer. That doesn't mean Cleveland won't make a few noteworthy moves in the next few weeks, but it could open the door for the club to wait until the trade deadline to address potential holes in its roster, rather than agreeing to a deal it's not 100% sold on this offseason.
Guaranteed Salary
Player Options
Team Options
Non-Guaranteed Salary
Restricted Free Agents (Qualifying Offers/Cap Holds)
Unrestricted Free Agents (Cap Holds)
Other Cap Holds
Projected Salary Cap: $94,000,000
The Basketball Insiders salary pages were used in the creation of this post. Photo courtesy of USA Today Sports Images.