Many of the subjects profiled in our Extension Candidate series are good bets to receive maximum-salary contract offers, but that generally doesn't stop us from discussing whether those players are actually worth the max, or whether they'll be willing to accept slightly less in an extension. However, in the case of Paul George, who becomes extension-eligible this Sunday, president Larry Bird took the air out of that debate before it even began.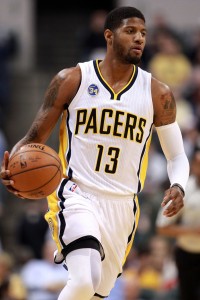 "I know he don't want to talk about it all year and I don't either," Bird said this week, discussing a potential extension for George. "We want Paul here and we know what it's going to cost and what it's going to take. If Paul wants to get a deal done, we will. It's a max deal. There's no others, so there's no use talking about it. If he wants it, he's got it."
Even though the Pacers still have George under control for two more seasons (plus a third-year player option), it comes as no surprise that the team wants to lock him up for even longer. And it's not a surprise that Bird is willing to put a max offer on the table — the 26-year-old is one of the league's best two-way players, having earned multiple All-NBA and All-Defensive nods over the last few seasons.
He's also coming off a perhaps his best year as a pro, returning from a broken leg – which cost him nearly all of his 2014/15 season – to set a new career-high in PPG (23.1), while matching previous career bests in APG (4.1) and SPG (1.9). For good measure, George threw in 7.0 RPG and connected on 37.1% of his three-point attempts, converting a career-best 2.6 per game.
In many instances, a player receiving a maximum-salary contract offer from his current team won't hesitate to accept that deal. But in George's case, there are several pros and cons worth considering, and we shouldn't necessarily expect him to get something done with the Pacers as soon as he becomes eligible to sign a new deal this weekend. Let's break them down…
Why George should sign an extension this fall:
George could get an immediate pay raise if he renegotiates and extends his deal with the Pacers, who should have the cap room necessary to bump his salary up to the max. That would mean an extra $3.8MM+ in 2016/17, with his salaries for the next two years jumping by about the same amount.
If George doesn't ink an extension, he'll be locked into his current deal until at least the summer of 2018, at which point he could opt out. In other words, the only way he could increase his salaries for the '16/17 and '17/18 league years is to sign a new deal with the Pacers.
In addition to securing some extra money in the short term, George would also position himself for a huge payday when his new extension runs out. The Pacers star currently has six years of NBA experience — if he extends his deal to the maximum allowable four years (adding one year to the three he already has left), it would set him up to reach free agency when he has 10 years of experience under his belt, making him eligible for the highest possible max salary (35% of the cap).
Finally, as someone who has already lost nearly a whole season to a significant leg injury, George is all too familiar with how one play can impact his career. He came back better than ever from that broken leg, but there's no guarantee that he'd be able to do that again if he suffered another major injury. Renegotiating and extending his current contract would ensure that George adds another $40MM in guaranteed money to his deal for essentially tacking on one extra year. That's a lot of extra security.
Why George should hold off on signing a new deal:
Unlike James Harden, who signed an extension with the Rockets this summer, George only has six years of NBA experience, rather than seven. That difference is significant. Players with six years of experience or less are only eligible for a maximum salary of $22,116,750 in 2016/17. Players with seven to nine years of experience can sign for up to $26,540,100, as Harden did.
While the single-year difference between those two amounts may not be huge, a player's subsequent raises are based on that initial figure, so the disparity would affect each of the next four seasons of George's deal. In other words, it might make more financial sense for him to wait until next July to sign an extension. At that point, he'd be eligible for a higher max and could potentially sign a deal like Russell Westbrook did this year, tacking on just one extra year, getting a raise, and still lining himself up to reach free agency after his 10th season.
Of course, signing any extension with the Pacers would push George's potential free agency back at least one year, and perhaps that would be a drawback for him as well. He has given no indication that he wants to leave Indiana, but he has not yet had the opportunity to explore the open market since entering the NBA, and perhaps that's something he wants to experience. Currently, he's on track to have that chance in 2018, assuming he declines his 2018/19 player option. If George wants to see what's out there, that's another good reason not to sign an extension with the Pacers quite yet.
Other factors in play:
George isn't the only Pacer who is eligible for a veteran extension. Newly-acquired point guard Jeff Teague is also extension-eligible this year, and if the Pacers give George a pay raise, they likely won't have the space necessary for a new deal for Teague. Still, the team might not have room for a Teague extension anyway, and even if he wants to play with his new point guard for more than just one year, George shouldn't let that affect his decision on an in-season extension. Indiana will still likely try to re-sign Teague next summer.
A more important factor to consider might be the looming opt-out date for the league's Collective Bargaining Agreement. The NBA and the NBPA are expected to negotiate a new agreement, and while that new CBA likely won't undergo many drastic changes affecting player earnings, it's possible that a few tweaks will take place, which could affect George's next deal. Will he want to lock in an extension before that CBA goes into effect, or will he want to roll the dice and wait it out?
Ultimately, the odds of the Pacers signing George to an extension soon will come down to what George wants. Does he want to stay in Indiana as long as possible or does he have interest in checking out the free agent market? Does he want a raise this year, or would he prefer to wait a year to try to maximize his earnings? Will he simply want to get something done sooner rather than later in order to preemptively shut down speculation about his future?
George will become eligible for a new deal on September 25, so it's possible we'll get answers to those questions soon.
Photo courtesy of USA Today Sports Images.