Over the next several weeks, Hoops Rumors will be breaking down the 2016 offseason for all 30 NBA teams, revisiting the summer's free agent signings, trades, draft picks, departures, and more. We'll evaluate each team's moves from the last several months and look ahead to what the 2016/17 season holds for all 30 franchises. Today, we're focusing on the Indiana Pacers.
Free agent signings:
Camp invitees:
Trades:
Draft picks:
2-50: Georges Niang. Signed for three years, $2.606MM. Second year partially guaranteed. Third year non-guaranteed.
Departing players:
Other offseason news:
---
Check out our salary cap snapshot for the Indiana Pacers right here.
---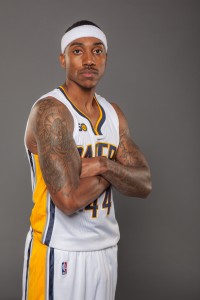 Few teams in the Eastern Conference did more to to alter their makeup than the Pacers this past offseason. Not only did the franchise change head coaches, it also shuffled nearly half of its roster from the 2015/16 campaign. Indiana should be more competitive this season, but the team still has a number of roster needs and it remains to be seen just how well and how quickly all the new faces can gel on the court.
Team president Larry Bird dismissed former head coach Frank Vogel after the team lost its first round playoff series against the Raptors. The Pacers went 250-181 in parts of six seasons under Vogel, who inherited the head coaching job when the Pacers parted ways with Jim O'Brien in January of 2011. That record doesn't include his postseason mark of 31-30, with Indiana making back-to-back conference finals under Vogel in 2013 and 2014. Bird's reasoning for the move was that he wanted more scoring and that his expectations for the Pacers this past season were higher than most. It appeared that a philosophical difference had emerged in 2015/16 when Bird spoke of his desire for more of an up-tempo attack versus Vogel's fondness for a traditional lineup with two big men.
If Bird thought it was time to make a change and that Vogel wasn't the coach to take the team to the next level, then not signing him to a new contract makes sense. What doesn't necessarily make sense to me is replacing him with assistant coach Nate McMillan. I'm not knocking McMillan as a coach, his career regular season record of 478-452 is solid, though he hasn't enjoyed much postseason success, owning a career playoff record of 14-20. But McMillan doesn't fit the bill as the up-tempo offensive coach that Bird stated he desired.
McMillan's squads when he was leading Seattle and Portland were solid offensively, but never averaged over 99 points per game. Plus, his teams didn't necessarily kill it on the defense side either. In four out of the ten seasons he was head coach, his teams were ranked 25th or lower in the league defensively. Under Vogel, Indiana never finished worse than ninth in defensive efficiency, while topping the NBA twice. While promoting McMillan fosters some sense of continuity, it appears to be change merely for the sake of change, instead of taking the team in a new, and potentially more exciting, direction.
The team's biggest roster move, and perhaps the riskiest, was the three-way trade that sent George Hill to Utah in exchange for Jeff Teague. Hill is a solid defender and rebounder as well as an excellent three-point shooter, which is an area the team was already weak in. Teague is two-years younger than Hill and a better passer and shot-creator, but he's not a tremendous upgrade at the point guard spot. He'd be a more effective addition if the Pacers had better three-point shooters who could benefit from Teague's skillset. The pair's stat lines from last season were similar, with Hill averaging 12.1 PPG, 4.0 RPG and 3.5APG to go along with a shooting line of .441/.408/.760 versus Teague's numbers of 15.7 PPG, 2.7 RPG and 5.9APG with a slash line of .439/.400/.837. Teague said back in June that he played the 2015/16 season with a torn patellar tendon in his knee, so an increase in his numbers this year may be in order. He's also in the final year of his deal, so he may also boost his performance playing for his next payday.
Bird swung another trade on draft night, landing Thaddeus Young from the Nets in exchange for the No. 20 overall pick in this year's NBA Draft, which Brooklyn used to select Caris LeVert. While I have mixed feelings about the Teague/Hill swap, I think this deal was a wise one for Indiana. With the team hoping to contend immediately, there wasn't a player who was going to be available at its draft slot who who be able to contribute anything significant this season. Young enjoyed a solid campaign for Brooklyn last year, averaging 15.1 PPG, 9.0 RPG and 1.9 APG while connecting on 51.4% of his shots overall. However, Young's 23.3% shooting from beyond the arc was well below his career average of 31.9%. With the Pacers desperately in need of floor-spacers who can connect from deep, the 28-year-old isn't the answer in that area. He's under contract for two more seasons after this one, including a player option for 2018/19, so Bird and company better hope Young can provide a spark in other ways. Regardless, I still believe it was a solid move overall.
Indiana also did some significant offseason shuffling at the center position. Gone is Ian Mahinmi and Jordan Hill, with Bird replacing them with Al Jefferson and Kevin Seraphin. It's hard to knock adding a veteran of Jefferson's caliber to the bench, but both he and Seraphin are injury risks. Jefferson only managed 47 games for the Hornets a season ago and 65 the previous campaign, while Seraphin notched just 48 appearances for the Knicks in 2015/16, plus, has managed to stay healthy for just two out of his six seasons in the league. Coupled with intended starter Myles Turner, who missed 22 games during his rookie campaign, things could get ugly in the middle real quick for the Pacers this season, barring each player bucking the odds and their injury track records. Plus, I firmly believe that Mahinmi's defense and spark will be sorely missed in Indiana this season.
If Turner can remain healthy, the franchise has a budding star and solid building block for the future. I'm a big fan of the 20-year-old's game, which fits in perfectly with the direction the league is headed. The rookie really came on strong las the 2015/16 season progressed, averaging 10.3 points, 5.5 rebounds and 1.4 blocks in just 22.8 minutes per outing. I expect Turner to improve upon his 21.4% shooting from three-point range this season, which is something the team desperately needs from him. The addition of Jefferson will also be huge for Turner's development, and hopefully the veteran's work ethic and professionalism will rub off on the younger player.
Of course, the Pacers' chances this season rest firmly on the shoulders of swingman Paul George, who is eligible to sign a contract extension prior to this month's deadline. Bird has gone on record stating that he is ready to give George a a max extension if the player is interested. "I know he don't want to talk about it all year and I don't either," Bird said in September. "We want Paul here and we know what it's going to cost and what it's going to take. If Paul wants to get a deal done, we will. It's a max deal. There's no others, so there's no use talking about it. If he wants it, he's got it."
While an extension on its own might not appeal to George given the free agent money available thanks to the rise in the salary cap, the Pacers should have the cap room necessary to renegotiate his deal in addition to extending it. That means Indiana could increase George's salaries to the maximum for the next three years, and then tack another max-salary year on for the 2019/20 league year. On the other hand, signing an extension this year would prevent George from potentially exploring the free agent market in 2018, when he can opt out of his current contract. It would also lock him into a max salary for players with six years of NBA experience or less — if he waits one more year, he would get the max for players with seven to nine years of experience, which is worth 30% of the salary cap instead of 25%. Teague is also eligible to sign an extension, but my guess is that the team will wait to see how he gels in Indiana before it commits major dollars to him.
The Pacers will certainly have a different look when they take the court this season, though, I'm not sold that they will be a significantly better squad than a season ago. My gut tells me that the team will struggle out of the gate as the new players attempt to get comfortable with one another on the court. Injuries could also play a huge factor, especially among the big men, which could sink the franchise's campaign if it is hit hard in that area. Bird needs to be active on the trade market prior to February's deadline, as the team still needs shooters and depth at point guard and center. I still believe the Pacers have enough talent to make the playoffs as currently constituted, but not enough to make much noise when they get there.
Salary information from Basketball Insiders used in the creation of this post. Photo courtesy of USA Today Sports Images.