JULY 7: The Pacers, Jazz, and Hawks have all issued announcements formally confirming that the three-way swap is official. Teague goes to Indiana, Hill heads to Utah, and Atlanta gets the rights to Taurean Prince, the 12th overall pick in last month's draft.
JUNE 22: The Pacers, Jazz, and Hawks have agreed to a three-way trade, according to Adrian Wojnarowski of The Vertical, who reports that Indiana will acquire Atlanta point guard Jeff Teague and send George Hill to Utah in the deal. The Hawks, meanwhile, will get the No. 12 overall pick in tomorrow's draft from Utah, says Wojnarowski.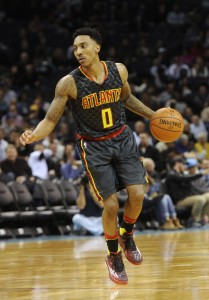 Teague, 28, has been the subject of trade rumors this year despite having an All-Star appearance on his résumé. With just one year left on his contract, Teague has become somewhat expendable in Atlanta due to the continued development of fellow point guard Dennis Schröder, who has made no secret about his desire to be the starter going forward
Teague, who said earlier this month that he played the 2015/16 season with a torn patellar tendon in his knee, still appeared in 79 games, averaging 15.7 points and 5.9 assists, and shooting 43.9% from the field and 40% from three-point range. According to Wojnarowski, the Pacers intend to try to extend Teague's contract beyond the 2016/17 season. The veteran point guard will be eligible to restructure his deal beginning on July 13th.
In Hill, meanwhile, the Jazz are acquiring a solid defender who can also contribute on the offensive end, particularly from beyond the arc. In 74 regular-season games, Hill averaged 12.1 points, 3.5 assists, and 4.0 rebounds per game, to go along with a 40.8% mark from three-point range. The 30-year-old was also solid in Indiana's first-round playoff loss to Toronto, increasing his three-point percentage to 48.1% for those seven games. He'll team with Dante Exum at the point in Utah, and his arrival may push Trey Burke to the trade block.
Chris Vivlamore of The Atlanta Journal-Constitution suggests (via Twitter) that the trade won't become official until July, which makes sense if no other pieces are involved. That would allow the Jazz to use their cap space in July to absorb Hill's $8MM salary without moving any other players. From the Pacers' perspective, Teague's salary – which will increase to $8.8MM due to his 10% trade kicker – is only a marginal increase on Hill's.
As for the Hawks, they'd clear Teague's salary while taking on a cap hold of just under $2MM for the No. 12 overall pick. The move would reduce the guaranteed salaries on Atlanta's books for 2016/17 to about $44MM, not including the cap holds for their two first-rounders or pending free agents, giving the team plenty of room to re-sign Al Horford and potentially pursue another free agent or two as well.
Photo courtesy of USA Today Sports Images.